Canon G3010 Printer Review: Canon G3010 is a well-organized multi function ink tank printer that is exceedingly popular for its notable wireless service.
Now, this review is going to do an analysis of the pros and cons of this multi functional ink tank printer. We hope you will find this advantageous.
Things We Liked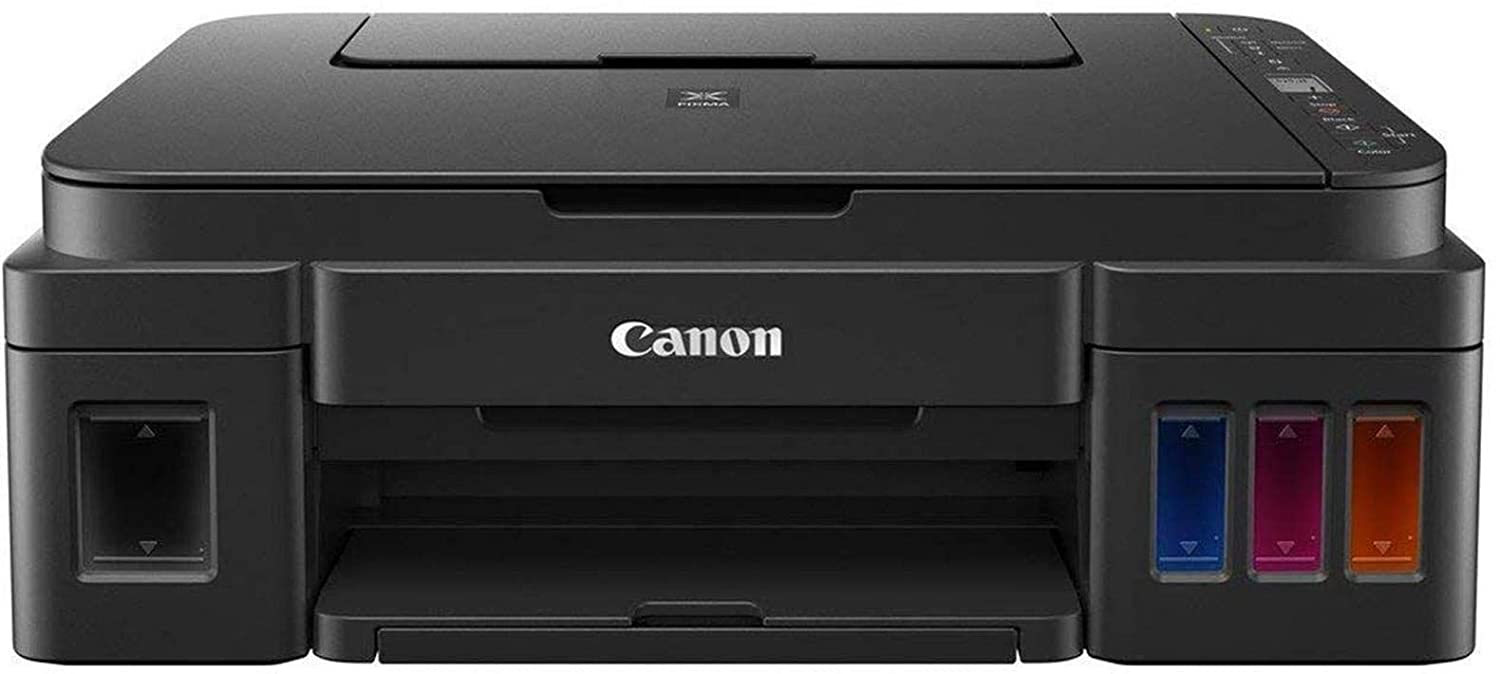 Compact Design and Build.
Printing Cost is quite low.
7000 Prints of Page Yield.
Only 8 paise for B/W print.
About Ink Tank Printers
Ink tank printers are the most appropriate combination of excellence and affordability in the field of printing. This group of printers does not have cartridges to print.
Rather, they use refillable ink tanks and ink bottles that give outputs of a high calibre. Ink tank printers are the most relevant choice for domestic as well as official printing tasks.
Canon G3010 Printer Specifications
Functionality
All-In-One Ink Tank
Page yield

7000 Prints
Print speed
8.8 pages (B/W) per minute
5 pages (colour)per minute
Ink Cost
2200 Rupees
Cost Per Print
8 Paise For B/W
21 Paise For Color
Display
1.2 In Display
Ideal For
Students
Home
Small businesses
Power Usage
Low
OS Support
Windows 7 or higher
ADF
Not Available
Warranty
1 Year
Price
Check Lowest Price
Canon G3010 Printer Review
Now, have a look at this Canon G3010 Printer Review in detail so that it becomes easy for you whether you should go for it or not.
Design and Build Quality
Design is our first priority when we buy any appliance. In this case, the elegance of the Canon G3010 will definitely fascinate you.
With 44.5 × 33 × 16.3 cm dimension and 6.3 Kg weight, this printer will be a space saving gadget on your desk.
Like many other ink tank printers, the Canon G3010 has an LCD display and an operation panel too. The size of this display is 1.2 Inch.
Printing Features
It is an innate quality of ink tank printers that they carry out the printing tasks with sharper and crisper texts.
So being an ink tank printer, the Canon G3010 printer possesses such a refillable ink tank that can carry through high volume printing perfectly.
The Canon G3010 printer can print approximately 8 monochrome prints per minute and 5 colour prints per minute. Besides, you will be stunned with the printing resolution of up to 4800 × 1200 dpi.
The minimum paperweight that can be handled by this printer is 80 gsm, while the maximum is 275 gsm. The printing features do not end here.
Not only on plain paper, the Canon G3010 printer can print photos also on photo sized laminated paper, basically with 4 × 6 inch size, and even on matte paper.
Scanning and Copying Features
Up to 600 × 1200 dpi scanning resolution of the Canon G3010 printer will also surprise you. It will take only a few seconds to scan your documents. You can also print 15 to 20 copies at once with the Canon G3010 printer.
Low Cost Ink Bottles
Page Yield is our main concern when we buy a printer. With the Canon G3010 printer, you are going to get an advantageous page yield of up to 7000 pages for colour and 6000 for black, which is more than enough for domestic use.
The reason behind this excellent page yield is the original but low cost ink bottles of four different colours used by this printer. These ink bottles are made with a completely spill-proof tip design.
Integrated Ink Tank
The Canon G3010 printer has an integrated ink tank that enhances the efficiency of this printer. This ink tank is visible from outside. So it will be easier for you to monitor the ink levels regularly.
Poster Artist Lite Software
The Canon G3010 printer comes with this useful software. With the Poster Artist Lite software, you can heighten the standard of your posters or flyers by choosing various types of templates that can make your business more profitable.
Message in Print App
This app will help you share messages or impressive animated greetings or any videos with your close ones. To get this feature, you have to install this app on your smartphone.
Connectivity Features
There is a USB 2.0 port in the Canon G3010 printer to connect it to your computer or laptop. It also supports wireless connectivity with WiFi. The Canon SELPHY App is also there to help you print by using smartphones.
Disadvantages of the Canon G3010
Let us have a look at the drawbacks of the Canon G3010 printer:
No ADF
The Canon G3010 printer has no Automatic Document Feeder. This will dissatisfy you.
No Mac OS Support
Unlike the Canon G3000 printer, the Canon G3010 printer has no support for Mac OS. This printer is only supported by Microsoft Windows 7.
Low Page Yield on Higher Resolution
The Canon G3010 printer is able to offer you a very high page yield. But at higher resolution, the page yield may be reduced.
Conclusion: Canon G3010 Printer Review
Though marked with some disadvantages, the Canon G3010 printer has so many noteworthy features that make it compete with other popular ink tank printers available in the market. So you can easily fix your mind to buy this all-in-one ink tank printer.
Prabir Mandal is the editor-in-chief of Printer Guru. He is in love with productivity devices, especially printers. His love for printers has made him open this blog where he can share all his knowledge about printers and the experiences he has gathered while using them.