Epson L3110 Review: Planning to buy EcoTank L3110 Multifunction InkTank Printer by Epson?
Before buying, go through our complete Epson EcoTank L3110 Printer Review where we have discussed everything from its features, advantages, disadvantages, and more so that we can clear all your doubts.
So, without any further delay, let's start the review of this very popular printer and get to know whether you should buy it or not.
Best Features
Multifunctional Printer.
Great Build Quality.
1 year or 30,000 pages of warranty.
Quite a value for money.
What is InkTank Printer?
InkTank printers are the improved version of InkJet printers. The old inkjet printers used to offer very bad print quality and also quite less printing. The ink of the printer used to run out of ink just after printing around 200 pages.
In this situation, the printers needed cartridge replacements. However, as the technology advanced, the performance of inkjet printers got performance boost quite significantly.
And now, they are called InkTank Printer. Compared to inkjet printers, the modern InkTank printers are quite cost-effective as they come with an ink reservoir or tank and a static head.
And because of this, you don't have to replace it. Moreover, the ink of InkTank printers does not dry up quite easily just like the InkJet printers.
Moreover, the InkTank printers are more eco-friendly and the equipment is also truly affordable.
Epson EcoTank L3110 Review Printer Specifications
Functionality
Multifunctional All-in-One (Print, Scan, and Copy)
Print Speed
33 pages (Black & White) Per Minute
15 pages (Colour) Per Minute
Page size supported
A4, A5, A6, B5, C6, DL
Connectivity
Wired with USB
Supported OS
Windows XP and higher, IOS (have issues)
Printer Type
Ink Tank
Ideal For
Home and Small Office
Duplex Capability
No
Usage
Regular / Heavy usage (more than 300 pages per month)
Supported Page Size
A4, A5, A6, B5, C6, DL
Item Weight
4.5 kg
Warranty
1 year or up to 30,000 pages whichever is earlier.
Epson EcoTank L3110 Printer Detailed Review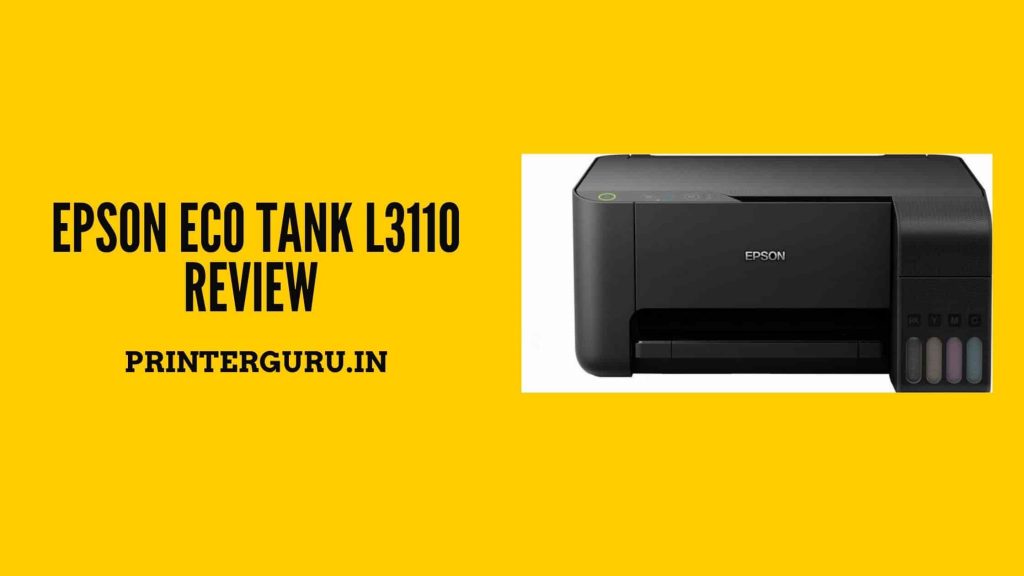 EPSON did not stop innovating printers. It is one of the finest printer-making companies. This particular printer has a striking design and offers lots of features and advantages.
Go through this full Epson EcoTank L3110 Printer Review and decide whether it is worth buying for you or not.
Design and Build Quality
Epson EcoTank L3110 Printer is quite a good-looking machine with a compact integrated tank design.
The dimension of the printer is just 37.5 x 34.7 x 17.9 cm. As a result, it is truly compact. It will take quite a small space of your home and house.
The build quality of this printer is great. The printer is around 4.5kg. Being lightweight, you will find it easy to carry it here and there in your home.
Printer and Refill Cost
This printer is one of the most economical and multifunctional printing solutions for all. It was launched to offer the users affordable printing solutions and improved productivity for all.
Epson targeted the home and small office segment with this printer. The cost per print with this printer is just 7 paise for black print and around 18 paise for color print which is truly economical.
Each set of ink bottles will offer you an ultra-high yield of 7,500 color prints and 4,500 black prints, as a result, you don't need to worry about your ink running out.
Spill-free Refilling
Refilling is too easy on this printer. However, you have to make sure not to touch the printer heads while refilling.
Moreover, it offers Spill-free and error-free refilling as every individual bottle which has unique key nozzles that fit only into their respective tanks.
Epson L3110 printer comes with a pack of four spill-free 70 ml ink bottles of colors such as Black, Cyan, Magenta, and Yellow. The compatible Ink Model is T003.
Quality and Speed
The printing quality of the Epson L3110 printer is also quite great. The printing resolution it offers is around 5760 dpi which makes it an ideal choice for your printing needs.
The speed of printing is somewhat. For black and white print, you will get speeds of up to 10ipm and for color print, you will get 5.0ipm speed. Moreover, the good news is that this printer is also capable of printing borderless photos up to 4R.
Maintenance
Maintenance is also quite easy for this printer. Even when you stop printing for quite a while, the ink of the printer will not dry up quite easily.
Moreover, you are getting a warranty of 1 year or 30,000 pages whichever is earlier. If any malfunctions happen, you can easily opt for Epson India's after-sale service.
Connectivity
The printer only comes with a wired connectivity option. The printer can be connected to the computer and other devices with its USB port. The port makes sure you can connect to a laptop or a desktop very quickly.
Cons of Epson EcoTank L3110 Printer
Every product always has some drawbacks along with its advantages. The following are the things we did not like about this printer.
No Automatic Duplex
This printer lacks an Automatic Duplex or Automatic Document Feeder which is a feature to print both sides of the same page automatically.
In this printer, you have to interfere to print on both sides of a page. Which can be a drawback for some.
Lack Support for Apple Products
Although you can use this printer with Apple products such as Macbook or iMac but the printer is not fully compatible and causes some issues.
The recent drivers from Epson can fix the issue. However, however you have to be cautious before purchasing it.
Average Speed
Even though the company claims great speed, we find it a little slow while printing and scanning. Many users also complained about the speed of this printer.
Should You Buy It
You should definitely buy it if your budget is a little tight and want a great printing machine for home or office use. Even though it has some cons, it is undoubtedly worth recommending because of Spill-free Refilling, quality, easy maintenance, and cheap refill cos.
Conclusion: Epson EcoTank L3110 Printer Review
So, this was our complete and honest Epson EcoTank L3110 Printer Review. As you can see, the printer is truly great and offers loads of features.
This multifunctional printer comes at an affordable price and is undoubtedly a worthy recommendation from us.
If you are looking for a long-lasting, value for money printer for home and office, this machine is truly the best buy.
So, what are you waiting for? Just Buy it by clicking the above-mentioned buying link.
Prabir Mandal is the editor-in-chief of Printer Guru. He is in love with productivity devices, especially printers. His love for printers has made him open this blog where he can share all his knowledge about printers and the experiences he has gathered while using them.