Epson's ink tank printers are always popular among users as they are able to print reliably with appreciable print speed and affordable cost per page. These printers are capable of reducing any kind of hassles that happen during refilling the ink tank. Generally, Epson's ink tank printers deliver high page yield so that the users can enjoy uninterrupted printing. These printers are built as environmentally conscious printers. 
Key Highlights
Great printing and copy speed.
2-line LCD display.
High-quality printing. 
Automatic Document feeder available.
Today we will discuss the features of such an ink tank printer that is manufactured by Epson. It is the Epson M200 printer. This printer is popularly used for its high page yield, distinctive print speed, high quality, and durable printing, seamless connectivity features, etc. Let us know this printer more deeply through this review. 
Epson M200 Printer Specs at a Glance
FEATURES
Epson M205
Printer Type
Ink Tank Printer Monochrome
Functions
Print, Scan and Copy (Multifunctional)
Scanner Type
Flatbed
Page Yield
6000 pages
Print Speed (Per Minute)
15 pages 
Display
Available 2-line LCD
Wi-Fi
Not available
Bluetooth
No
ADF
Available
Duplex Printing
Manual Only
Ideal Usage
Home and Small Office
Max Print Resolution
1440 x 720 dpi
Cost per Page
12 paise ISO Standards
OS
Mac OS and
Windows OS
Page size supported
A4, A5, A6, B5, DL, C6
Warranty
See It on Amazon
Detailed Epson M200 Printer Review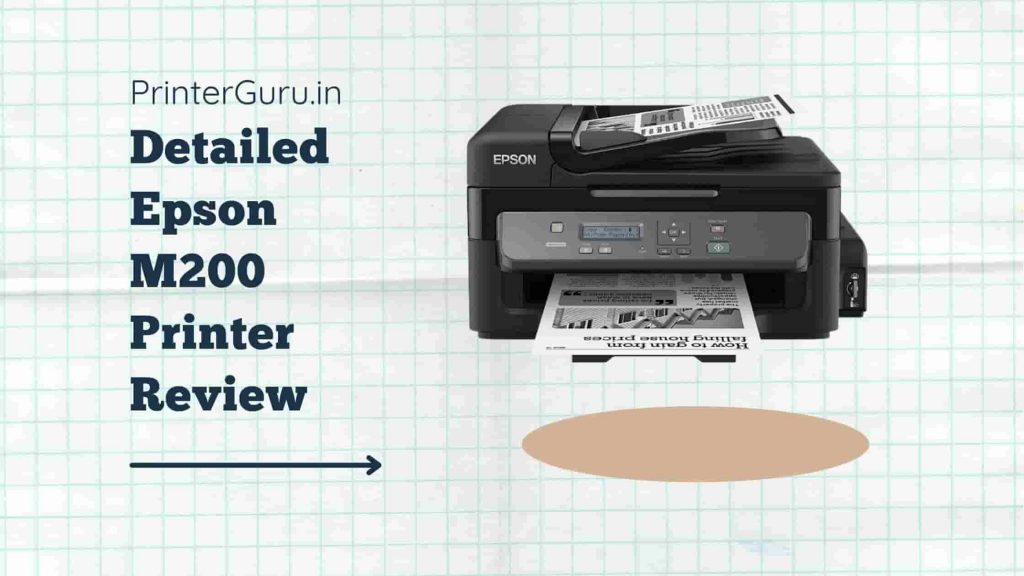 Design and Build Quality
Ink tank printers are always space-saving printers. The Epson M200 printer will always fit on a small desk of your office or your home as this printer possesses a compact design. If you look at its dimensions, you can understand how compact it is. The dimensions of the Epson M200 printer are 43.5 × 22.6 × 37.7 cm. The tiny footprint of this printer allows it to be integrated comfortably into small places. 
The Epson M200 printer is loaded with an LCD display. It is a 2 – line display. This display is so convenient that it will show every necessary information you need to know about your status of printing. The Epson M200 printer also includes an Automatic Document Feeder to print and scan more conveniently.
Print Speed
If you stay busy with your work and you do not get enough time to go to a cafe or any other printing shop to take printouts of your documents, you must buy the Epson M200 printer. This printer will save your time by delivering prints as fast as a laser printer does. 
This printer can print up to 15 pages per minute, as per ISO standard, and up to 34 pages per minute in draft mode. Because of having an Automatic Document Feeder or ADF that can hold up to 30 pages, the Epson M200 printer can print with this high speed. 
High Page Yield
The Epson M200 printer will give you an ultra-high page yield. This printer can print up to 6000 pages with just one set of ink bottles. Moreover, this product comes with a starter kit of a pair of ink bottles that contain 140 ml and 70 ml ink respectively. So, with this initial kit of ink bottles, you can have a page yield of up to 8000 pages. 
Cost Per Print
The Epson M200 printer takes only 12 paise to print one monochrome page. If you compare this cost with the cost of printing a laser printer, you will see that the cost per print of this printer is only one-third of a laser printer. So this printer can be called a cost-effective printer, right? 
Print Quality
You will be rejoicing during your printing session as the Epson M200 printer will give you cost-effective prints with high durability. This printer uses highly pigmented ink. With this genuine ink, The Epson M200 printer can deliver exceptional print quality with a print resolution of up to 1400 × 720 dpi. Every print will be waterproof and fade-resistant. 
Other Features
The Epson M200 printer can copy with high speed that is up to 34 copies per minute. It can do up to 99 copies. This printer takes only 0.008 seconds to scan a document. It can scan with up to 1200 × 2400 dpi optical scanning resolution.
The Epson M200 printer is an environmentally conscious printer as it consumes very less amount of power. On active mode, this printer consumes only 10 watts and on standby mode, it consumes only 4 watts.
Connectivity Features
Connectivity features of the Epson M200 printer are also convenient. You can share the efficiency of this printer with more than two devices through its wireless connectivity features. USB connectivity option is there in this printer for connecting it to a computer or laptop. Ethernet connectivity is also available.
The Epson M200 printer is able to print effortlessly through its Epson iPrint App if you connect it to a device wirelessly. A wireless scanning option is also available. 
Also Check: Honest Epson M205 Review
Pros and Cons of Epson M200
Pros
Cost-effective printer. 
High efficiency. 
Convenient connectivity features.
Superb design.
High page yield. 
Outstanding print speed.
High-quality printing. 
Efficient LCD panel.
ADF is available. 
Cons
Lack of automatic duplex printing. 
Only monochrome prints are done. 
Our Verdict- Should You Buy It?
You will feel tremendous peace of mind if you print with the Epson M200 printer. If you read this article thoroughly, you can understand that this printer is worth buying. So what are you waiting for! Just click the below-mentioned link to buy it at an offer price.
Prabir Mandal is the editor-in-chief of Printer Guru. He is in love with productivity devices, especially printers. His love for printers has made him open this blog where he can share all his knowledge about printers and the experiences he has gathered while using them.