Looking for Hp 416 vs 419 comparisons? We get you covered.
Here, in this honest and detailed comparison review, we have tried to compare two quite popular printers from the house of HP.
First, before starting the comparison, have a look at both of their specifications.
Hp 416 vs 419 Specification Comparison
FEATURES
HP 416
Hp 419
Functionality
All-In-One (Printing, Scanning, Copying)
All-In-One (Printing, Scanning, Copying)
Maximum number of
prints per one full refill
(Page yield)
7500 Black
8000 Colour
15,000 black
8000 color
Print Per Minute
(Print speed)
15 pages per minute (color)
19 pages per minute (black and white)
8 pages (Black and white)
5 page (Colour)
Ink Cost
2100 Rs
2100 Rs
Connectivity
WiFi, USB
wiF
Cost Per Print
10paise for B/W
20 Paise for Colour
10 Paise For B/W
18 Paise For Color
Ideal User
Students
Home
Small businesses
Students
Home
Small businesses
Power Usage
Low
Low
OS Support
Windows 7, 8, 10 or higher
macOS
Windows 7, 8, 10 or higher
macOS
ADF
Not Available
Not Available
Warranty
1 year
1 Year
Hp 416 vs 419 Detailed Comparioson
Design and User Experience
When it comes to design, both of these printers- Hp 416 and Hp 419 are quite identical with just a few differences here and there.
Hp 416 comes with an all-black design. The control panel is in the top-left corner of the printer. There is a tiny black and white LCD display along with other buttons.
HP 419 comes with a black-colored painting with blue color here and there. Just like Hp 416, this printer has a display and some buttons to operate the printer on the top-left side of the printer.
Both of them are quite easy to use due to their easy setup and user interface.
In the Design and User Experience department both of them are same.
Printing Features and Quality
As per printing features are concerned, there are some similarities as well as differences.
The major difference comes in the form of printing speed. In a minute, HP 416 can print up to 15 color pages and 19 black and white pages.
On the other hand, in a minute HP 419 can print up to 8 black and white pages and 5 color pages.
As you can see, when it comes about printing speed, HP 416 is way ahead.
Printing cost is almost identical in both of these printers. Hence, there is nothing to talk about. The Colour printing cost is just 2 paise cheaper in HP 419.
Another major difference can be seen in the page yield (Maximum number of
prints per one full refill). The page yield of Hp 419 is significantly higher than HP 416.
The page yield of HP 416 in 7500 Black and 7500 colors. Whereas in HP 419, the page yield is around 15,000 black and 8000 color.
When it comes about page yield, HP 419 is a clear winner here.
Connectivity Features
Both of these offerings from HP are wireless printers. Both of them have wireless connectivity as well as the USB feature.
With the help of these connectivity options, you can easily connect these two printers to your desktop, laptop as well as mobile.
Hp 416 vs 419 Major Differences
HP 416
---
Page Yield (7500 Black and 8000 Colour).
Print Speed 15 ppm colour, 19 ppm b&w.

Wireless printer (WiFi, USB)
HP 419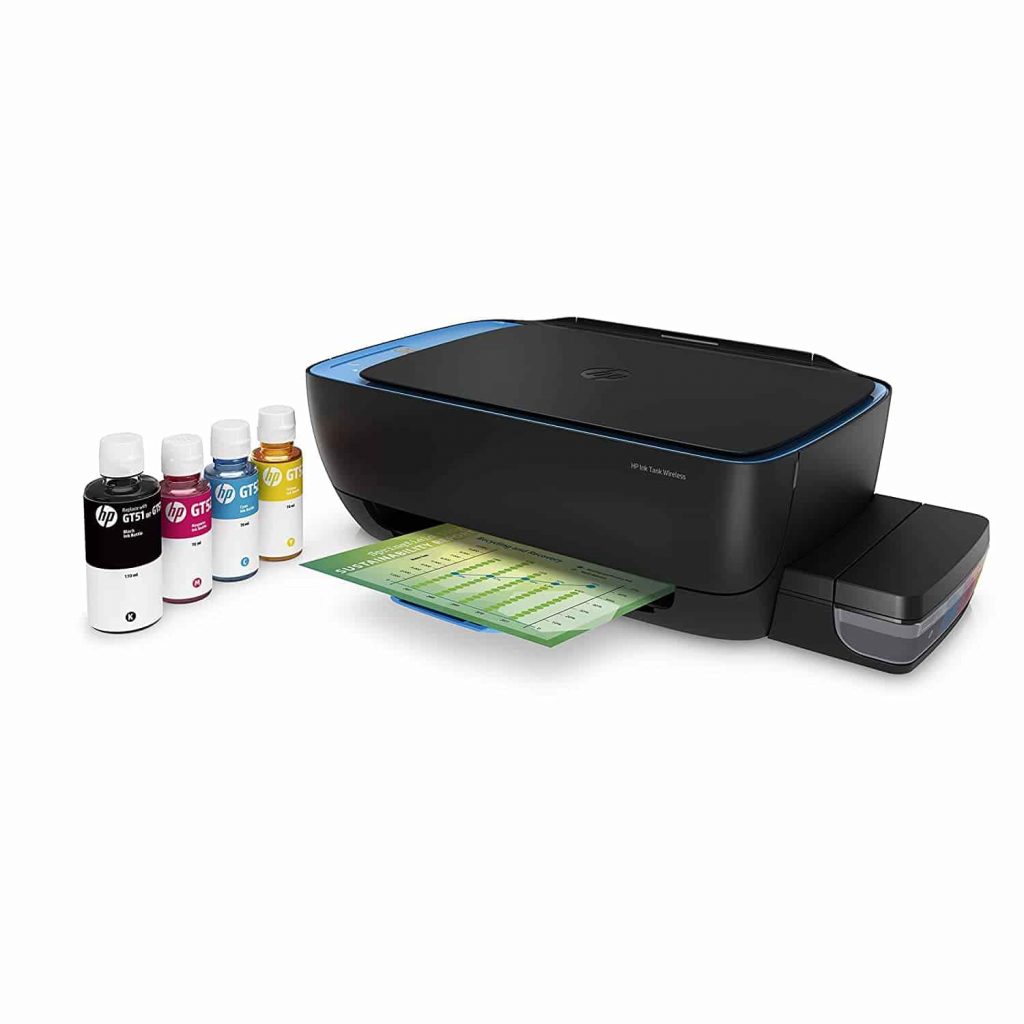 ---
15000 black and 8000 colour.
8 ppm b&w, 5 ppm colour.

Wireless printer (WiFi, USB)
Conclusion- Which One is Better?
So, this was our complete and detailed Hp 416 vs 419 printer comparison review. It is hard to decide which one is better as both of them are almost identical.
However, depending upon your usage, we can recommend these two printers.
If you require a printer with great speed, go for Hp 416 printer.
However, if your main priority is high page yield, undoubtedly go for Hp 419.
Still in doubt, please let us know by commenting down below.
Prabir Mandal is the editor-in-chief of Printer Guru. He is in love with productivity devices, especially printers. His love for printers has made him open this blog where he can share all his knowledge about printers and the experiences he has gathered while using them.