The HP Deskjet Plus 4123 is an all-in-one printer. This is a printer that is manufactured by HP or Hewlett-Packard with a lot of premium qualities.
This printer is built with the best quality materials including so many modern technologies that are responsible for making the HP Deskjet Plus 4123 printer able to compete with other printers in this category.
If anyone is craving a multifunctional printer of high quality, he or she can easily go with this model. 
To check the major specifications of the HP Deskjet Plus 4123 printer, you must read this review. From this review, you will also get to know why this particular printer is being hugely used for printing, scanning, copying, and faxing nowadays. Check it out!
HP Deskjet 4123 Printer Specification 
Functionality
Print, Scan, and Copy
Cost Per Print
Rs 6 (Black)
Rs 8 (Color)
Connectivity
USB 2.0, WiFi Connectivity
Supported OS
Windows 7 or higher
macOS
Printer Dimension
47.5 x 24.2 x 40.5 cm
Print Speed
16 pages per minute
Power Usage
Low
Ideal User
Students
Home
Warranty
Coverage of up to 1 years
ADF
Not available
Specifications
View Full Specifications
Detailed HP Deskjet 4123 Printer Review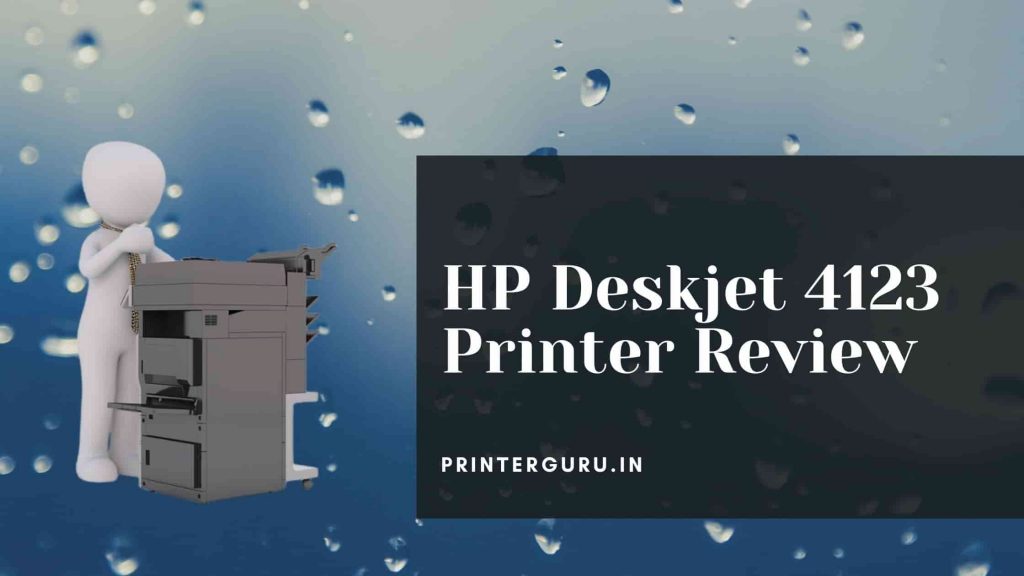 Design and Build Quality
A good printer must have good build quality. Until and unless the printer has enough strength and skillful design, it can't tackle the heavy load of printing.
Moreover, a printer should come in a small size so that the user can keep it safely at any place. Because, at our home or in our workplace, it is not easy every time to make a place for a large-sized electronic gadget. 
The HP Deskjet Plus 4123 printer is such a printer that can give its users the comfort of using a reliable printer as it is made with much durability to handle bulk printing.
On the other hand, this printer is as lightweight as only 6.19 kg and as compact as 47.5 × 24.2 × 40.5 cm. We think now you are feeling relaxed that you do not have to make much space at your home or in your office to place this particular printer. 
Speed of Printing
An efficient printer is such a printer that prints fast. But what is a fast printer? How can you categorize a printer as a fast printer? Do these questions come to your mind? Okay, we are going to answer your questions.
A fast printer is a printer that delivers at least 15 pages in a minute. This is called the speed of printing of that particular printer and it is measured by PPM or Paper Per Minute. 
In this case, we can call the HP Deskjet Plus 4123 printer a super-fast printer. Because this particular printer can deliver up to 20 pages per minute for black and up to 16 pages per minute for color. 
Cost of Printing
So you are now aware of what print speed is. But, do you know about print cost or cost of printing? Don't worry if you are not aware of this feature. We are here to make you equipped with all this knowledge about printers. 
Print cost or cost of printing is the cost you have to pay to print a single page from your printer. A printer with low print cost is called a cost-effective printer.
And, the HP Deskjet Plus 4123 printer is a printer of this category as it requires only 6 rupees to print a page for black and only 8 rupees to print a page for color. 
 Quality of Printing
The print resolution of the HP Deskjet Plus 4123 printer is up to 4800 × 1200 dpi. This printer supports page sizes of A4, B5, A6, DL, and Envelope. The manual Duplex Printing feature is available in the HP Deskjet Plus 4123 printer. 
While printing, the HP Deskjet Plus 4123 printer does not exceed the noise level of 55 DB. This printer has an LCD display including user-friendly icons to help you in navigation during printing. 
Connectivity Features
The HP Deskjet Plus 4123 printer has a reliable wired connectivity feature through high-speed USB 2.0 as well as very convenient wireless connectivity support through dual-band WiFi.
You have to install the HP Smart App on your smartphone to get more convenient options for fast printing, scanning, and copying. Even for sending a fax from your smartphone to your printer, you will get excellent options. 
Conclusion- HP Deskjet 4123 Printer Review
To sum up this review, we can only say that the HP Deskjet Plus 4123 printer is really a reliable multifunctional printer. In this printer, you will get scanning and copying facilities too.
In fact, faxing facility is also provided by the HP Deskjet Plus 4123 printer. The inclusion of an Automatic Document Feeder in this printer makes it more efficient. 
So, what is your opinion now? Has this printer impressed you? Let us know through your comment! 
Prabir Mandal is the editor-in-chief of Printer Guru. He is in love with productivity devices, especially printers. His love for printers has made him open this blog where he can share all his knowledge about printers and the experiences he has gathered while using them.