If you want to buy an affordable printer that can deliver crisp and clear quality printing, the HP M126nw will be a good choice.
This article is going to give you an informative review of the advantages and disadvantages of this laser printer. Hopefully, you can make your decision more apt after reading it.
About Laser Printers
Laser printers are significantly popular in large enterprises because of their several advantages. Firstly, the speed of these printers is higher than the inkjet printers. A laser printer can deliver the first-page printing faster than an inkjet printer. The overall printing speed is also high.
Secondly, the running cost of a laser printer is economically more friendly with the user than ink cartridges. The toner cartridges of a laser printer are able to deliver a high volume of printing without any interruption.
Thirdly, because of the high volume printing with low cost and faster speed, laser printers are very reliable to use for professional printing.
The microscopic elements of the toner and sturdy materials of the laser printers will give you a superior printing quality that will be perfect for the busy office atmosphere.
HP M126nw Printer Specifications
| | |
| --- | --- |
| Printing Type | Monochrome |
| Technology | Laser Printer |
| Function | Multifunctional (Print, Scan, Copy) |
| Connectivity | Wireless and USB |
| Scanner Type | Flatbed |
| Printing Speed | Up to 20 ppm |
| Warranty | 1 year |
| Price | CHECK RECENT PRICE |
HP M126nw Printer Review
Now, in the following paragraphs, we will be discussing everything about this particular. So, have a look at HP M126nw Printer Review in Detail.
HP M126nw Printer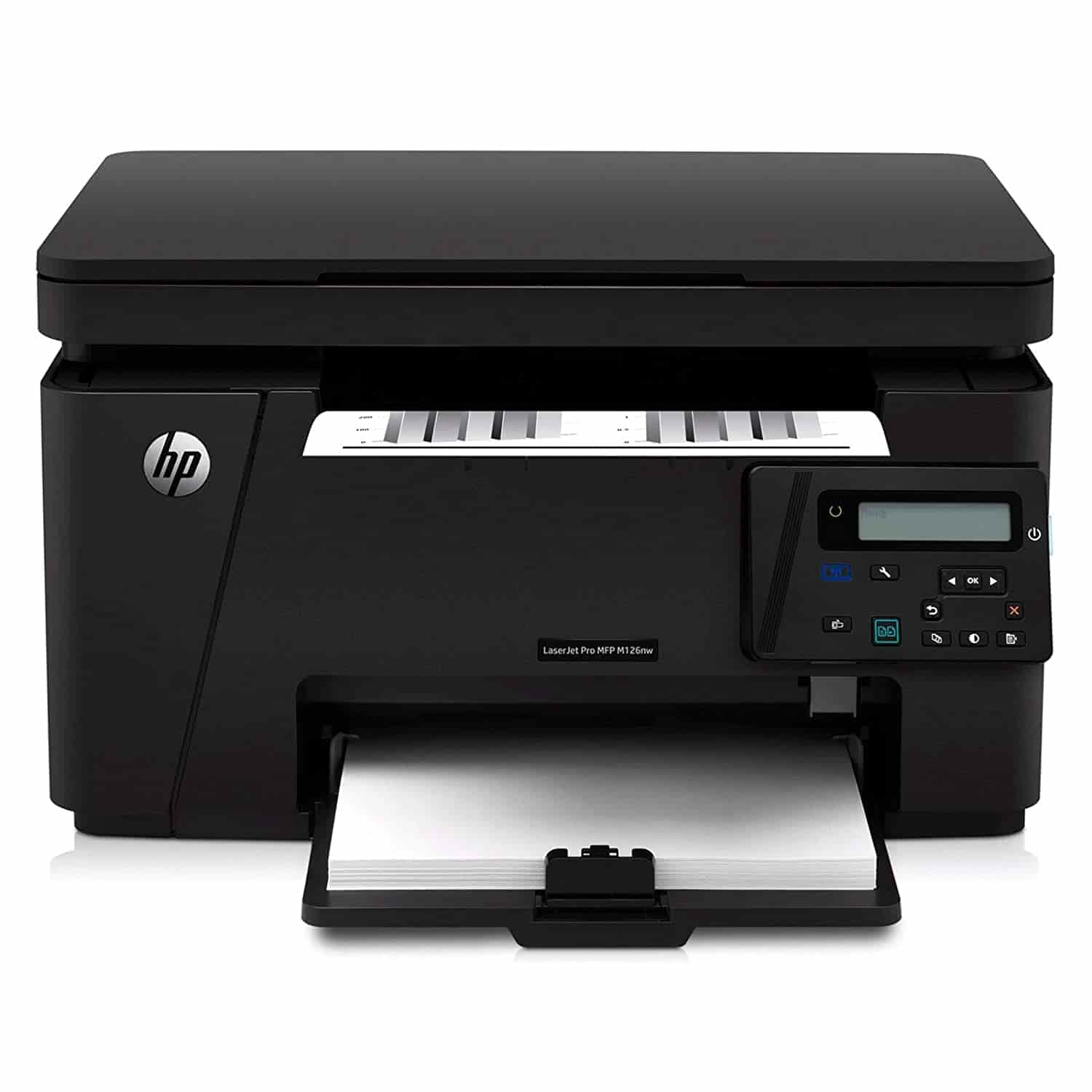 Key Features
Great Build Quality.
Auto On and Auto Off.
High Page Yield.
Print, Copy, Scan.
Build Design
The HP M126nw printer is very lightweight. It is a multifunction monochrome printer that has a compact design. So this printer will take a very small amount of space on your desktop.
The black matte exterior of this printer will make your workplace appear more elegant to everyone.
The input paper tray of this printer can take up to 100 sheets. Simultaneously, the output tray can hold up to 150 sheets.
Printing and Scanning Features
The HP M126nw Laserjet printer is a multifunction printer. It will give you crisp and sharp text images for both scanning and printing. The printing resolution that you will get from this printer is up to 600 × 600 dpi.
With this printer, you can easily copy two-sided ID as well as small documents onto one side of a single page. The print media that are supported by this printer are A4, B5, A6, DL, and envelope. The duty cycle of the HP M126nw is up to 8000 pages per minute.
The HP M126nw Laserjet Multifunction printer has a flatbed scanner that can scan with 24 bit depth. It can scan up to 21 pages per minute for letter size papers, and up to 20 pages per minute for A4 size papers.
The copier can reduce or enlarge the size of the documents or images from 25 to 400%. The copying speed of this printer is up to 20 cpm. It can copy up to 20 cpm for A4 size papers, and up to 21 cpm for letter size papers.
Toner Compatibility
The laser toner which the HP M126nw Laserjet Multifunction printer is compatible with is the original HP 88A Laserjet toner cartridge. With this laser toner cartridge, the page yield capacity of this printer is up to 1500 pages. It will take only 2 rupees to print per page.
Auto On and Auto Off Technology
The HP M126nw Laserjet Multifunction printer is capable of saving energy. This printer is designed with the intelligent HP Auto On and Auto Off Technology. This technology will turn on the printer as soon as you plug it in, and similarly, turn the printer off if it is not working for a long time.
Connectivity Features
Along with a high speed USB 2.0 and Ethernet connectivity, the HP M126nw printer has some other connectivity features that will quickly impress you. These feature are –
Apple AirPrint Technology
The HP M126nw all-in-one LaserJet printer will give you a facility to print from your smartphone, computer, laptop, or tablet. The exclusive Apple AirPrint will help you print from anywhere. So you do not have to move from your seat.
WiFi Direct Connectivity
With WiFi Direct printing, you will be able to connect your HP M126nw printer to your smartphone or tablet. So you can now print from your smart devices from anywhere in your home or office, without a network.
HP ePrint App
Apart from the Apple AirPrint and WiFi Direct, The built-in HP ePrint app will allow you to take prints directly from your mobile device.
Drawbacks of the HP M126nw Printer
Here are the drawbacks we have found in the printer during our HP M126nw Printer Review. Let's have a look.
1. No Duplex Printing Technology
The HP M126nw Laserjet Multifunction printer is a simplex printer, that means it does not have a duplex printing feature. So it can't print on both sides of the paper.
2. No Automatic Document Feeder
This printer lacks an ADF or Automatic Document Feeder. So you have to manually put the papers for scanning, printing, or copying.
Conclusion: HP M126nw Printer Review
The HP M126nw Printer is ideal for small businesses as well as heavy printing, scanning, and copying jobs. You will surely be satisfied with its excellent performance.
Should You Go for It?
You Definitely Should. This printer has some great features and just a few drawbacks which makes it worth buying for sure. Just Grab it now by clicking the link below.
Prabir Mandal is the editor-in-chief of Printer Guru. He is in love with productivity devices, especially printers. His love for printers has made him open this blog where he can share all his knowledge about printers and the experiences he has gathered while using them.