Best Printer for Small Business In India 2022: Our world is swiftly being digitized because of the preference of doing everything virtually. So the importance of "Soft Copy" of a document is increasing.
Despite this fact, on many occasions, we need to have "Hard Copy" of some documents or photographs as concrete evidence. So there is, of course, strong demand for printers everywhere, especially in offices.
To make you sufficiently equipped for choosing the perfect printer for your office, I am here with this valuable article about the best printer for small businesses in India.
Best Printer for Small Business In India
Let us have a look here and understand which one is suitable for you as per your budget and requirements. The following are the top 5 Best Printers for Small Business In India.
HP Laserjet Pro M126nw Multifunction Laser Printer
With this model of HP printers, you can get the power of the best printer for small business in India in the palm of your hand. To tell more specifically, with its Apple AirPrint and HP ePrint app, you can print from any place by using your personal computers, laptops, and even your mobile devices.
This printer can speed up your pace of printing. So all your documents can be printed, scanned, or copied by this multifunctional printer in a faster way. The text and image quality is also better with this printer.
If you want to copy your ID cards, no other printer can give you more efficiency than this one. This multifunctional printer has the capability to copy both sides of your ID as well as any other small document onto the front of a single page.
The Most attractive feature of this printer is that it can save energy by consuming less power while working. Its Auto On and Auto Off functions work properly for saving energy. By this, your electricity bills will also be reduced.
Printer Output: Monochrome
Colour: Black
Printing Technology: Laser
Sheet Size: A4, B5, A6, DL, Envelope
Connectivity: App, WiFi, USB, Ethernet, Network
Scanner Type: Sheetfed, Flatbed
Wattage: 110 W
Item Weight: 10 Kg
Canon ImageClass LBP2900B Single Function Laser Monochrome Printer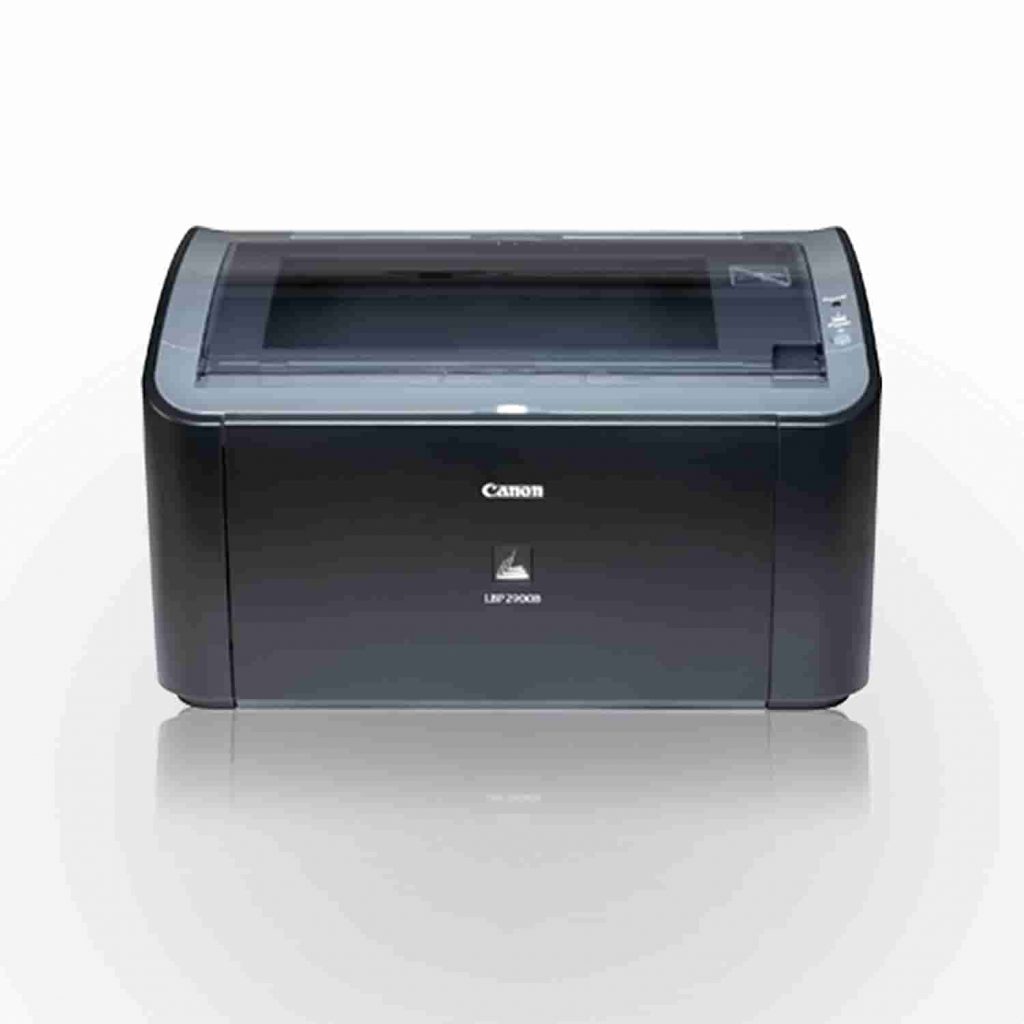 Canon ImageClass LBP2900B Laser Printer is popular for its compactness and user-friendliness. It is the best printer for small businesses in India that can print a large number of documents at a quicker pace.
Because of its compact design, this printer can easily be accommodated in a smaller area. But do remember that only the size is compact, not its efficiency. It is, in fact, more efficient than any other laser printer.
This printer can offer both high speed and high quality at the same time. It has a super-fast speed to print up to 12 pages per minute on A4 paper. If you demand more detailed or clear text or if you add more professionality in your presentations to impress your boss, this laser printer will unbelievably satisfy you.
This printer gives you the first print in just 9.3 seconds with its exclusive On-Demand Fixing Technology. This technology is so exceptional that it can transfer heat instantly after getting activated. This Quick Warm-Up feature allows the printer to respond swiftly from Standby Mode.
This printer supports multiple paper sizes including A4, B5, A5, LGL, LTR, Executive, Envelope C5/ COM10/ DL, and Monarch. It prints with a rich resolution of 2400 × 600 dpi at a very reasonable price. So this is the best printer for small businesses in India.
It is utterly compatible with the genuine Canon 303 TS Toner Cartridge. This cartridge will come with the printer.
This printer can be operated by Windows 98/ ME/ 2000/ XP, and Linux (CUPS). This is the ideal printer for both home office and small office.
Printer Output: Monochrome
Colour: Black/ White
Printing Technology: Laser
Print Media: Paper (Plain)
Page Yield: 2000 Pages (ISO)
Connectivity: USB 2.0
Scanner Type: Flatbed
Item Weight: 8 Kg
Brother DCP- L2541DW Multifunction Laser Printer
Are you an owner of a small business? Then this printer will be the most suitable one to make a marvelous improvement in your productivity with its amazing print speed of up to 30 pages per minute.
This printer will be astonishing to you with its excellent print resolution of up to 2400 × 600 dpi. It's spectacular Auto Duplex Printing Technology can print two-sided documents as well as booklets.
This is the best printer for small businesses in India that will allow you to create both-sided prints from one-sided original documents when copying. This function also has the advantage to reduce the consumption of money and paper.
This printer offers the most useful and flexible connectivity with its built-in wireless network interface. Now, you are able to share your network with multiple employees.
Not only through wireless connectivity, you can also connect your printer to your computer or laptop through its USB interface.
It is the age of mobile devices. We store most of our important documents and images in our smartphones and tablets. In this case, you can directly print these documents from these mobile gadgets with its Brother IPrint and Scan App. This feature is available for both Android and IOS
Apart from an adjustable paper tray with 250 letter or legal-sized sheets capacity, this printer has another single-sheet manual feed slot to keep envelopes, labels, or any kind of thicker print media.
Printer Output: Monochrome
Colour: Black
Printing Technology: Laser
Print Media: Envelopes, Paper (plain)
Wattage: 65 W
Connectivity: WiFi, Ethernet, WiFi Direct, USB 2.0
Scanner Type: Flatbed
Item Weight: 11.2 Kg
Epson L6190 Wi-Fi Duplex All-in-One Ink Tank Printer With ADF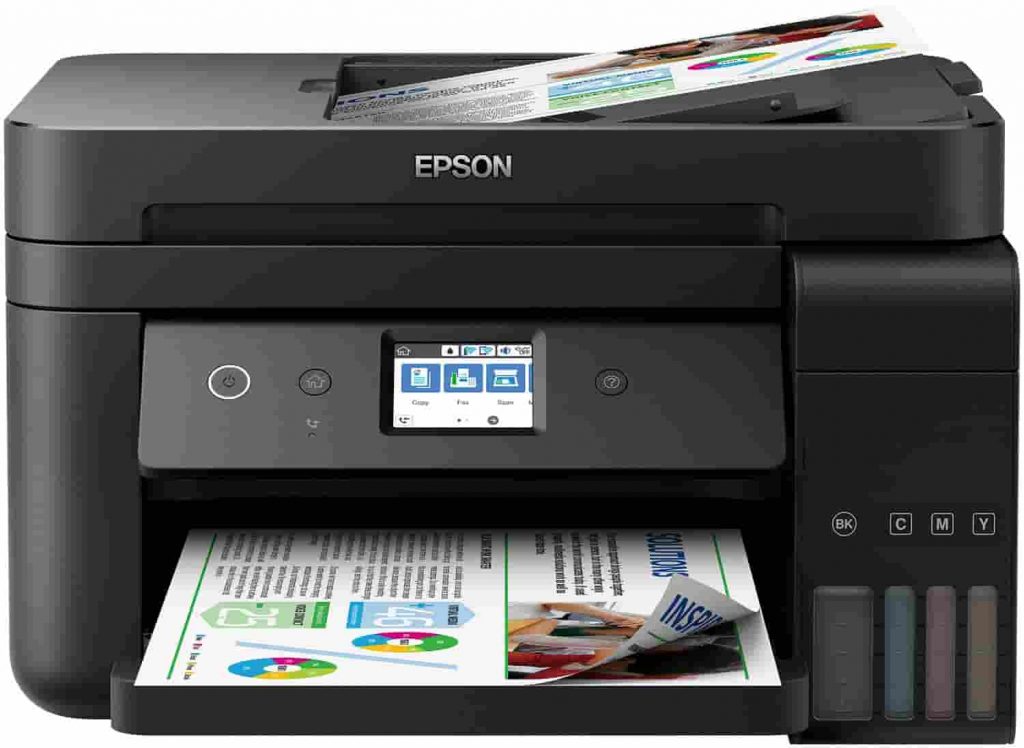 Epson L6190 Wi-Fi Duplex All-in-One Ink Tank Printer is one of the top-selling printers across the world. This model of Epson printers has a wide range of qualities including high speed and duplex printing that makes it the best printer for small businesses in India.
This printer is not large in size like the older ones. It has a close-packed or compact design. So if your desk is not wide enough, you do not have to be worried. With its small footprint, this printer can be fitted even in a small space.
Wireless printing is bliss nowadays and this printer is a master to print wirelessly. This printer is featured with Ethernet and WiFi direct that can allow you to print from up to 4 devices. In fact, you do not have to use any router for this.
The superior Epson Connect fear including iPrint, Email Print Driver, Remote Print Driver, and Scan to Cloud – everything is included in this printer. Isn't it a majestic gadget then!
This printer is incredibly produced with a PrecisionCore printhead. This feature can deliver you up to 33 pages per minute with its highest efficiency.
It is an all-in-one printer. So it offers you the facility of sending any document instantly. The broadcast and PC fax functions of this printer will allow you in this job. Even if you are running out of paper or ink, the 100-page storage memory of this printer will make you assured that the fax is received.
The ink bottles are engineered with spill-free technology by using unique nozzles which are user-friendly. Unlike ink cartridges, these ink bottles can minimize the risk of e-waste.
This printer can print up to 7500 pages for black prints. At the same time, it can print up to 6000 pages for colour prints. The ink bottles do not require frequent refilling.
Printer Output: Color
Printing Technology: Ink Tank
Print Media: High Resolution Paper
Scanner Type: Sheetfed
Operating System: Windows 7
Item Weight: 7.3 Kg
Connectivity Type: WiFi
Ricoh SP 210 Monochrome Laser Printer With Quiet Fanless Design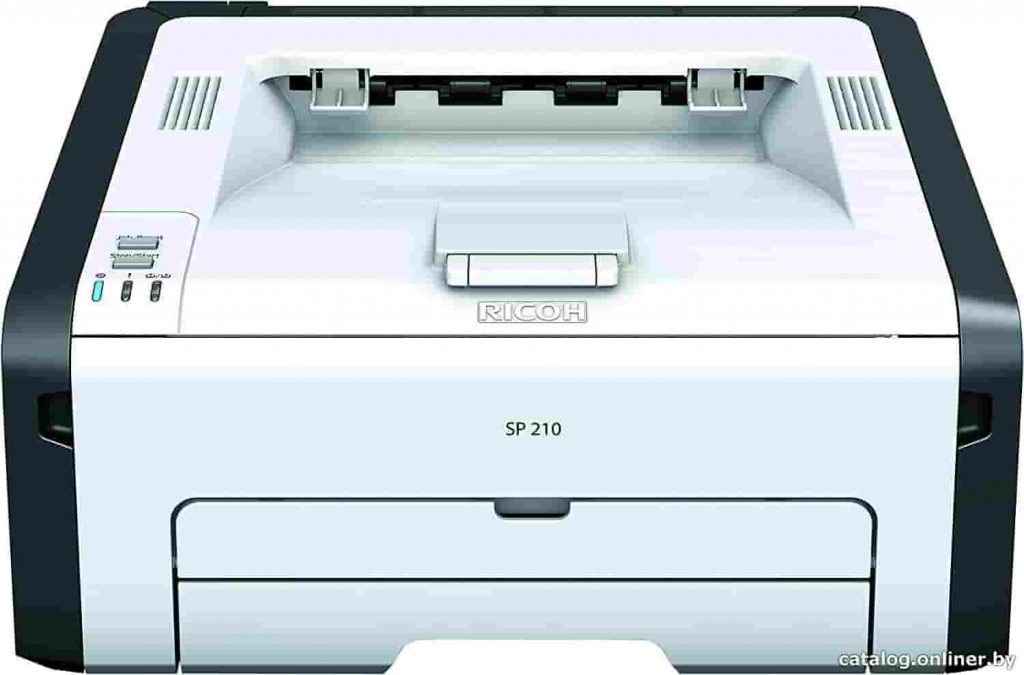 Ricoh SP 210 Monochrome Laser Printer is the best printer for small business in India because it can efficiently print 22 pages per minute with high resolution of up to 1200 dpi.
This printer is space saving as its dimension is 402 × 360 × 165 mm (W × D × H). With this compact package, this printer is able to be fitted on a desktop.
This is the best printer for small business in India that works so quietly that it goes unnoticed. This noiselessness of Ricoh SP 210 Monochrome Laser Printer will not distract you when you are doing any business plan in your mind.
This is a single function printer that is absolutely ideal for A4 black and white prints for small businesses. The speed of its printing is very high.
This printer is equipped with Ethernet and WiFi compatibility. This exceptional connectivity option meets all your business needs.
It follows the Toner Save Mode that helps cut your printing and maintenance costs. The Streamlined Paper Path of this printer can do printing tasks in a smoother way. This feature reduces strain on the paper. It minimises the hassle of paper jam too.
The Front-Opening Design of this model helps in toner replacement and paper replenishment. This design also helps remove paper jam.
Printer Output: Monochrome
Colour: White
Printing Technology: Laser
Sheet Size: A4, B5, B6, A5, A6
Connectivity: USB
Scanner Type: Sheetfed
Item Weight: 7.2 Kg
Conclusion: Best Printer for Small Business In India
I hope this article covers all the facts that you should keep in mind while buying the best printer for your small business in India. All the above-mentioned printers for business are superb.
Give a thorough look at all the features of these printers I have mentioned. I can assure you that you will be able to find the best one for sure.
Still, confused? Please let us know by commenting down below!
F. A. Q about Best Printer for Small Business In India
Q. 1. Can Duplex Printing Technology save my cost of printing?
Of course it can. Since this technology can print both sides of a page, it helps you save money, time, and also your papers.
Q. 2. What is Toner that is used in printers?
Toner is basically a type of ink consisting of a dry or powdery substance that is used in laser printers.
Q. 3. What is the function of the Automatic Document Feeder?
ADF or Automatic Document Feeder can automatically put a page in your printer. So you don't have to do it manually and thus your time will be saved.
Q. 4. Is a monochrome printer useful?
Though monochrome printers are the oldest printers used for printing, it is rarely used nowadays because it prints using only black ink.
Q. 5. What are the most useful printers for small businesses?
I will refer to inkjet printers in this case for their superb performance.
Prabir Mandal is the editor-in-chief of Printer Guru. He is in love with productivity devices, especially printers. His love for printers has made him open this blog where he can share all his knowledge about printers and the experiences he has gathered while using them.