Canon E4270 Printer Review: Having a Canon printer at home or at the workplace is a big advantage for doing all printing tasks conveniently. Particularly, if you have the Canon E4270 printer, your stress of work will definitely be lessened.
In case you are buying this printer, this review is going to help you by showing both the positive and negative sides of this printer.
Things to Keep in Mind Before Buying Inkjet Printers
Inkjet printers are cost efficient. They can give high quality chromatic outputs in a faster and quieter way. Besides, these printers take the least time to warm up.
On the other hand, the printheads used in these printers are not so durable that they often cause clogging. The type of water based ink these printers use, have the chance of being blurred. Moreover, the ink cost is not quite affordable.
Canon E4270 Printer Review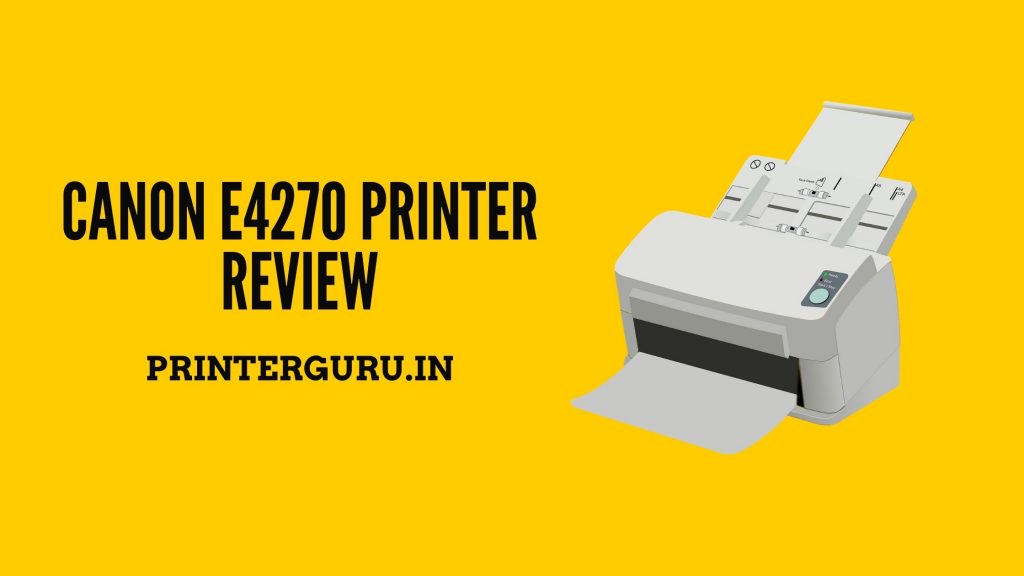 So, here is the detailed Canon E4270 Printer Review which will truly help you decide whether you should go for it or not.
Build Design
The Canon E4270 printer is black in colour. It is too compact in size. The dimensions are 43.6 x 29.5 x 18.9 cm and the weight is 5.9 Kg, so it could be a little heavier than other ink efficient printers of Canon.
Notably, this printer has an automatic document feeder with a capacity to tackle maximum 20 sheets at once for both copying and scanning.
Getting an automatic document feeder with the printer you are buying is a great benefit. Because it will lessen manual interference and save your time.
Printing Features
The Canon E4270 is an ink efficient printer. So it is obvious that this printer is constructed with such sturdy features that will skilfully deliver you vibrant outputs. This printer is able to print effortlessly with an excellent printing resolution of up to 4800 × 1200 dpi.
When we look at the quantity of pages printed by this printer in a minute, we will be satisfied enough. Because the Canon E4270 printer can print up to 4.4 pages colour and 8.8 pages in grayscale, per minute.
Moreover, this printer has the time and cost-efficient Auto Duplex Printing Technology to deliver two-sided prints, without bothering you to flip the sheets.
Scanning and Copying Features
Though our main motive behind buying a printer is to get convenient printing facilities. But an all-in-one printer always comes with more facilities, like scanning and copying. The Canon E4270 printer is an all-in-one printer, so it must have these two additional features.
This printer has a flatbed scanner to scan with the optical scanning resolution of up to 600 × 1200 dpi. It will take just 3.5 and 1.5 ms to complete coloured and black and white scanning respectively, using the CIS or Contact Image Sensor method.
The Canon E4270 printer can carry out copying tasks for both colour and monochrome documents. It can copy 8.5 monochrome documents within a minute. Similarly, it will take only a minute too for copying 2.7 coloured documents.
Low Cost Ink Cartridges
The Canon E4270 printer uses affordable ink cartridges with the ability to deliver high-quality printing. The compatible is CL- 57 for color and PG- 47 for black.
With these cartridges, it will offer an excellent yield of up to 400 monochrome pages and 300 colour pages.
Document Removal Reminder
The Canon E4270 printer has a Document Removal Reminder option. This option will allow you to set a reminder to remove your documents. So there is no chance to leave your documents at the printer unmindfully.
Connectivity Options
The Canon E4270 printer will give you various connectivity options. These are:
Both USB 2.0 Port and Wireless Connectivity
The Canon E4270 has the USB 2.0 connectivity option to connect it to your PC or laptop. At the same time, it will offer you an effective wireless connectivity to set up connections with your smartphone or tablet.
Canon SELPHY App
Firstly, the Canon SELPHY App will give you another simpler wireless connectivity for printing, scanning, and copying. Secondly, this is a very helpful app to check the ink level of your printer. And last but not the least, this app will also help you set up Cloud services remotely.
PIXMA Cloud Link
PIXMA Cloud Link software will allow you to print directly from numerous online sites. It is also useful to scan to Email and attach to several webmail services.
Drawbacks of the Canon E4270 Printer
The drawbacks of the Canon E4270 printer are not so significant. Only the ink cost is a bit higher than others. Besides, while doing a large amount of printing, the page yield may dissatisfy you.
Conclusion: Canon E4270 Printer Review
The Canon E4270 printer has all the necessary elements in it that help you to get colourful printouts. Though it is not efficient enough for bulk printing, you can easily buy it for a small office. It is also useful for domestic printing. So now it is up to you whether you will buy it or not.
Prabir Mandal is the editor-in-chief of Printer Guru. He is in love with productivity devices, especially printers. His love for printers has made him open this blog where he can share all his knowledge about printers and the experiences he has gathered while using them.