Canon E560 Review: Though we have recently got a modified version of inkjet printers, that is ink tank printers, inkjet printers are still an inexpensive and efficient option for superior printing. The Canon E560 is a printer of this sort.
So if you are going to invest your money in this printer, here is a guide for you. Read this review article with attention before buying.
Key Features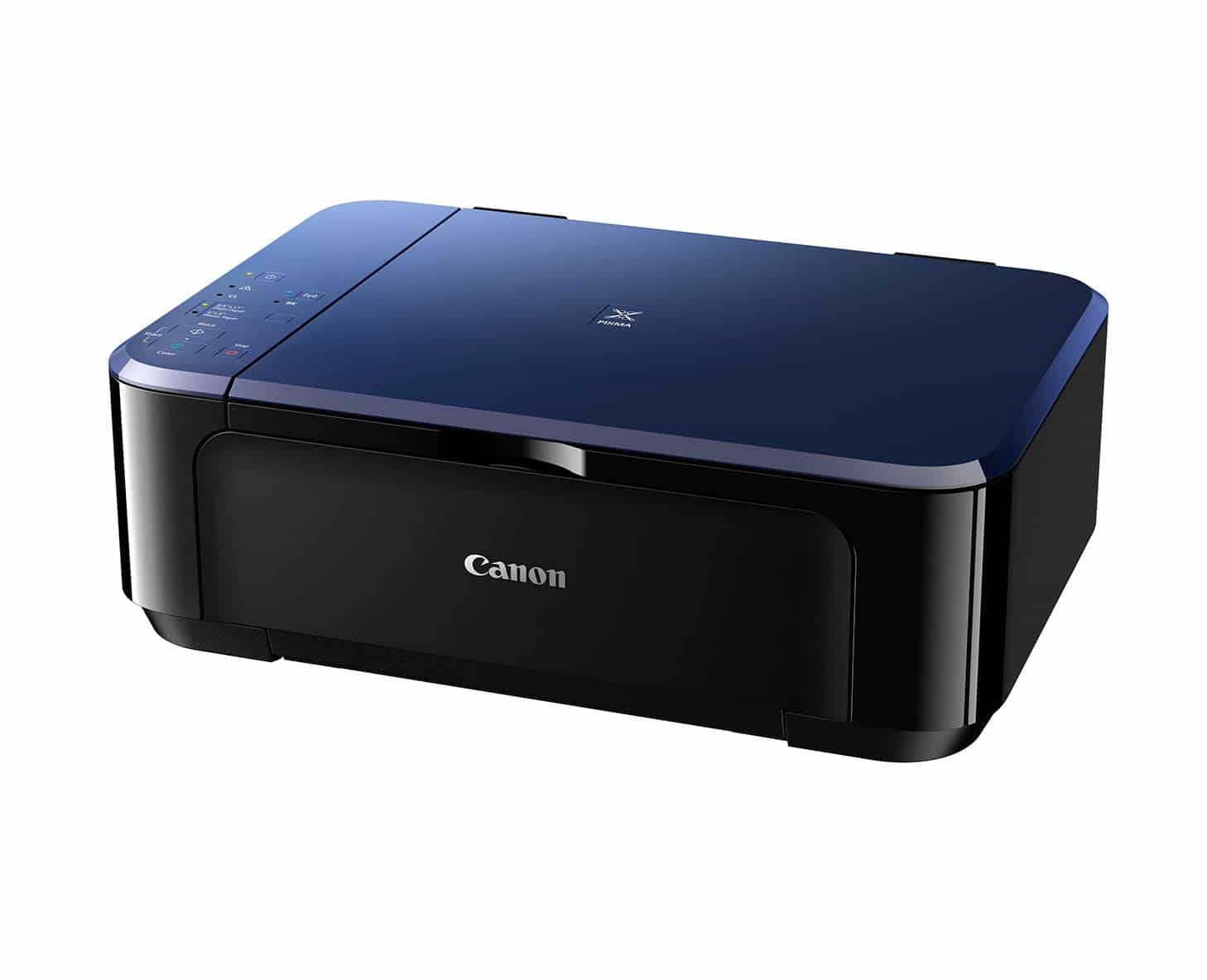 Compact design and small size.
Low Printing Cost.
Wired and Wired Connectivity.
1 Year of connectivity.
About Inkjet Printers
Inkjet printers are mostly used for home and office uses. It is a sort of colour printer that produces digital images by delivering ink droplets onto the paper or plastic substrates.
Inkjet printers can work more quietly than dot matrix or daisy wheel printers. They can deliver fine prints with smoother accuracy and high resolution. They take no time to warm up and run at a lower cost per print.
There are also a few disadvantages of inkjet printers I must mention. The major problem with an inkjet printer is that its nozzles are very narrow and they are prone to clogging. But you can clean them using specialized solvents. Besides, the genuine ink cartridges are of high cost.
Canon E560 Printer Specifications
| | |
| --- | --- |
| Printer Type | All-in-One (Print, Scan, Copy) |
| Connectivity Options | Wi-Fi, USB |
| Printing Speed | 9.9 pages (Black & White), 5.7 (Colour) |
| Supported Paper Size | A4, A5, B5, LTR, LGL |
| Auto Duplex Print | Available |
| Weight | 5.4 kg |
| Warranty | 1 Year |
| Price | CHECK RECENT PRICE |
Canon E560 Printer Review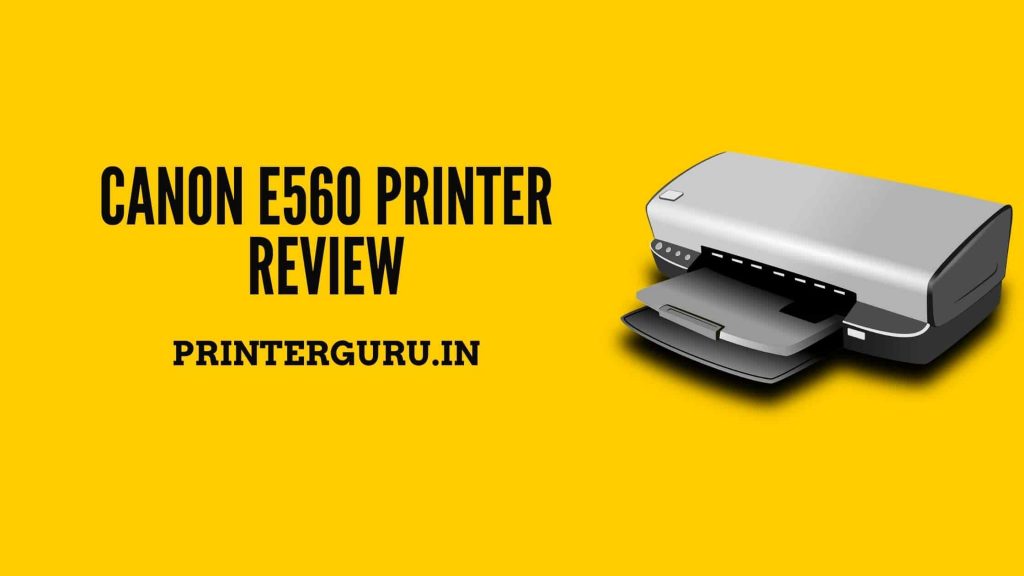 Canon E560 is an ink efficient printer. It is designed with such exceptional qualities that will give you an outstanding wireless printing experience which is affordable too.
It is a multifunctional printer, which means it is equipped with printing, scanning and copying features.
From this article, you will get a concrete concept about the features of the Canon E560 printer. You will also get sufficient information about its advantages and disadvantages from this article.
Design and Build Quality
Design is a great issue when we buy any gadget. With the compact design and small size, the Canon E560 is absolutely perfect.
Its dimensions are 44.9 × 30.4 × 15.2 cm and its weight is only 5.4 Kg. So it can be placed anywhere and can be replaced from one place to another anytime.
Printer and Scanning Features
The Canon E560 printer will let you print more at one go. With this ink efficient printer, you can spend less time in cartridge replacement. It will give you a print resolution of up to 4800 (horizontal) × 1200 (vertical) dpi.
The high-volume ink cartridges of the Canon E560 printer will allow you to print up to 800 pages for black and white and up to 300 pages for color. It will also reduce your cost per print.
The print speed will differ depending on system configuration, interface, software, complexity of documents, mode of printing, page coverage, and paper types.
The Canon E560 printer is eligible to save your time and paper as it can print two-sided documents with the Auto Duplex Technology.
This printer has a Flatbed scanner that use CIS or Contact Image Sensor method for scanning. The speed of scanning or copying will vary based on system configuration, interface, software, mode of scanning or copying, and size of the documents.
Ink Costs
The Canon E560 printer will offer you a lower cost of operation by printing up to 800 pages of A4 documents with the PG-89 ink cartridge. The CL-99 ink cartridge of the Canon E560 printer can print up to 300 pages.
To avoid errors, you have to install ink cartridges of all colours. Whether you print black and white or colour, it does not matter. If you do not install any of the ink cartridges, your printer will not perform properly.
Fast Front Design
This is a unique design of the Canon E560 printer. This feature will help you to operate your printer from a front-facing orientation. It will allow an easy and quick replacement of ink cartridges and paper feeding.
Wireless Connectivity
The Canon E560 printer is the Canon PIXMA Ink Efficient Printer that is featured with wireless LAN connectivity.
This printer will allow you to do printing and scanning operations with comfort, even without the need to be tethered to your desktop or laptop through USB.
PIXMA Printing Solutions App
You can easily complete your printing tasks wirelessly from your smart device. Also, you will be able to scan a document or image directly into your device.
For this, you will have to download the PIXMA Printing Solutions app on your smartphone or tablet. This app is only available for iOS and Android OS devices.
PIXMA Cloud Link
With this feature of Canon E560 printer, you will be allowed to print images from Cloud services including Photobucket, Dropbox, and Facebook directly from your smart devices.
Auto Power ON and Off Function
The Auto Power ON feature of the Canon E560 printer can detect print commands. After detecting, it can automatically turn your printer on and make your printer ready to print.
Simultaneously, the Auto-Off function will turn the printer off after a specific time. So, the Canon E560 will save a lot of power.
Cleaning Function
Canon E560 printer can perform cleaning automatically according to its requirements. During cleaning, a little amount of ink of all colours is consumed.
This function will help the printer to suck air bubbles or ink itself from the nozzle. So your printer will get great protection from nozzle clogging.
Flaws of HP 410 Ink Tank Printer
Before buying, please check the disadvantages of the Canon E560 printer. Though it does not have much cons, you should be aware of the flaws mentioned below:
Heating of Printhead
If you use non-genuine ink cartridges in a Canon E560 printer, the printhead will often become heated.
It will also emit smoke due to an element that is not present in genuine Canon ink. Eventually, the quality of printing will be degraded.
High-Cost Printing
Like other inkjet printers, the printing cost of the Canon E560 printer is also high. So this will make you think twice before buying this particular printer.
Low Page Yield
The page yield of the Canon E560 will be less. Besides, inkjet printers are meant for low volume printing. So the Canon E560 printer is not suitable for heavy use or bulk printing.
Conclusion: Canon E560 Review
The Canon E560 printer is the most reliable for your kid's school projects or art and craft activities. If you are planning to buy this printer for your home or personal office, you are choosing the right one.
Prabir Mandal is the editor-in-chief of Printer Guru. He is in love with productivity devices, especially printers. His love for printers has made him open this blog where he can share all his knowledge about printers and the experiences he has gathered while using them.