Choosing the most suitable ink tank printer for official or domestic use is, no doubt, a confusing task.
But this task could be easier if you get a good guide. This article is going to show you the features of two outstanding ink tank printers that are currently in high demand in the market.
These two printers are – the Canon PIXMA G3000 and G3010.
Though both of these printers share so many similar features that you must like, there are a few minor dissimilarities in their features which we often ignore.
But in this article, we are going to discuss each and every major and minor feature of these two printers we have found after using them and testing them extensively. So check it out! 
Canon Pixma g3000 vs g3010 Detailed Comparison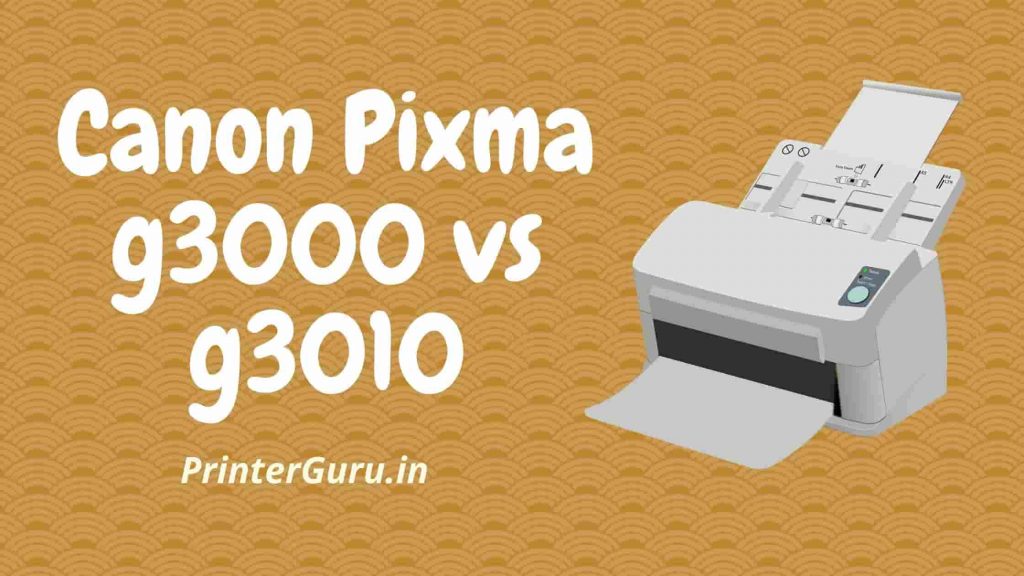 Design
The Canon PIXMA G3000 printer has a built-in ink tank.
It is an integrated ink tank that makes the printer compact in design and small in size.
The small footprint of this printer will help you fit this printer anywhere on your table or desk.
Not only that, the ink tank of the Canon PIXMA G3000 printer is so user-friendly that it allows you to easily check the ink levels from outside.
The Canon G3010 is a very popular ink tank printer with multifunctional features including a wireless printing facility.
This particular printer is designed with a very impressive outlook and an extremely small footprint.
That is why the Canon PIXMA G3000 is also called a space-saving printer.
Besides, this printer has an LCD display of 1.2 inches and an operation panel too. These features make the printer user-friendly.
Page Yield
The Canon PIXMA G3000 printer has such high-quality ink bottles that can print up to 7000 pages in color and up to 6000 pages in black and white.
So if you buy this particular printer, you will be free from all worries about ink cost or low supply of ink.
The Canon PIXMA G3010 printer is also able to offer you a very high page yield that is as same as the Canon PIXMA G3000 printer.
That means this printer too can print up to 7000 pages in color and 6000 pages in black and white. Also, the cost of ink for this printer is very low. 
Print Quality
The Canon PIXMA G3000 printer prints at a very high speed.
It can print up to 8 pages in black per minute as well as up to 5 pages in color per minute.
The cost of printing is very low with this printer. It requires only 9 paise for each black and white print and only 32 paise for each color print.
The Canon PIXMA G3000 printer is absolutely ideal for both home and office use as it can print up to 300 pages in a month.
The print resolution is also very high, it is up to 4800 × 1200 dpi. It can also print borderless photos.
The Canon PIXMA G3010 printer is also featured similar print qualities.
It can deliver sharp and crisp text with each printed output even while printing borderless photos.
Its refillable ink tank can do high-volume printing. This printer has the capacity to print up to 8 black and white pages per minute as well as 5 color pages per minute.
You can print with a maximum resolution of up to 4800 × 1200 dpi.
Connectivity Features
The Canon PIXMA G3000 printer is equipped with built-in wireless LAN connectivity.
This is such excellent connectivity that will allow you to print wirelessly from your computer, laptop, tablet, or smartphone.
The Canon PIXMA G3010 is also equipped with both USB 2.0 and WiFi connectivity features.
You can directly set up a connection between your printer and your smartphone or tablet with the wireless connectivity option, even without using a router.
Both of these printers are featured with Canon PRINT Inkjet or the SELPHY app. This app will guide you to print from your smartphone or tablet.
Besides, you can also print from various cloud services like Facebook and Dropbox. PIXMA Cloud Link will help you do this.
Bottom Lines: Canon Pixma g3000 vs g3010
Have you already chosen the most suitable ink tank printer for your office or home?
In case you are still in confusion, we are here to suggest you buy the Canon PIXMA G3010 printer. After using two of them, we have come to this conclusion.
Though it is true that the design and the print quality of this printer are very much similar to the other one, one thing there in this printer that is missing in the Canon PIXMA G3000, is the LCD display which is very helpful to monitor the ink levels.
Prabir Mandal is the editor-in-chief of Printer Guru. He is in love with productivity devices, especially printers. His love for printers has made him open this blog where he can share all his knowledge about printers and the experiences he has gathered while using them.