Epson L15150 Printer Review: If you have set a high budget for buying an ink tank printer, you must think of buying the Epson L15150 printer. This is a cost-saving multifunctional printer with WiFi connectivity.
Now just read the review and make yourself aware whether the Epson EcoTank L15150 printer is a good option for you or not.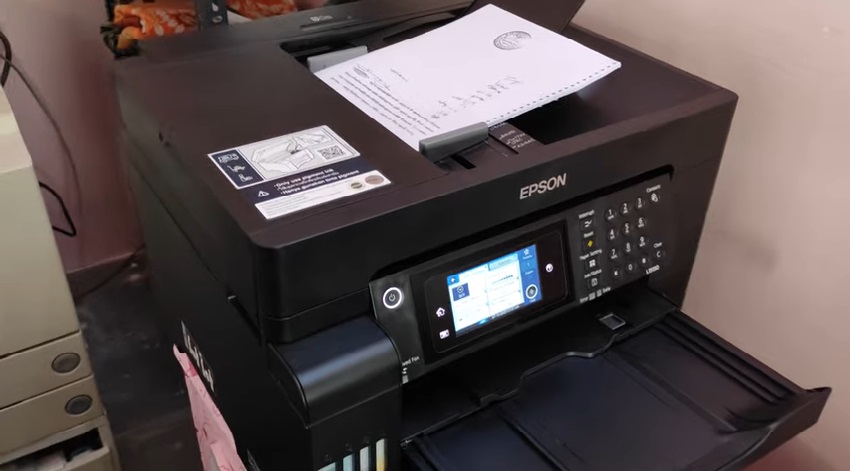 Specialty of EcoTank Printer
EcoTank printers are mainly economical and ecological printers. EcoTank is the brand name for the ink tank printers manufactured by the brand, Epson. The features of this type of printers are as follows:
EcoTank printers deliver colour page printing at a very economical rate. So they are perfect for everyday printing.
The page yield is very high with the spill resistant and user friendly ink tank included in these printers.
EcoTank printers generally use the Heat Free Technology. This advanced technology can deliver high quality printing while compared to the traditional laser or inkjet printers.
The refilling of ink tanks is very simple.
These printers will give you wireless mobile printing facilities.
Epson L15150 Printer Review
Here is the detailed Epson L15150 Printer Review that will surely help you decide whether you should go for it or not.
Design of Epson L15150 Printer
The Epson L15150 printer has a durable structure. This printer has a pair of paper handling trays that has a capacity to hold 250 sheets. It also has a rear feed that can tackle a maximum of 50 sheets.
Automatic document feeder is also available in the Epson L15150 printer. This feeder can hold up to 50 A3 sheets. So manual page loading is not needed with this printer.
This printer includes an LCD touchscreen of 10.9 cm. It has a few hard keys that will simplify the operating process of this printer.
Epson L15150 Printer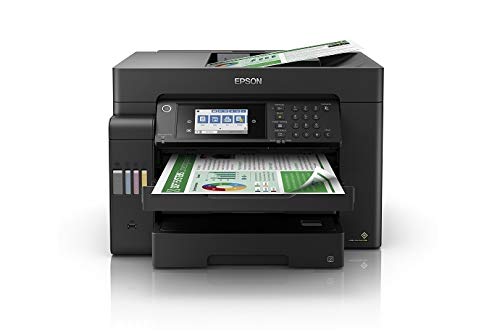 Key Features
Quite a fast printing.
Great Printing Quality.
 Ecological Heat Free Technology.
Duplex All-in-One Ink Tank Printer
Printing Quality
The Epson L15150 printer takes very little time to print. It can deliver its first print just within 5 seconds. Double sided printing, up to A3 sheets, is also done with efficiency by this printer.
The printing method used by this printer is the PrecisionCore Heat Free Technology. With this technology, the Epson L15150 printer gives a maximum resolution of 4800 × 2400 dpi.
Another positive side of the Heat Free Technology is that it gives a high speed printing. The printing speed of the Epson L15150 printer is up to 25 ipm for black and 12 ipm for colour.
Scanning and Copying Quality
The Epson L15150 printer has scanning and copying capabilities too. It has a flatbed scanner that can support both simplex and duplex scanning.
The maximum scanning resolution is 200 dpi for both monochrome and chromatic scanning. It can scan in black within only 5 seconds and in colour within only 10 seconds.
The copying resolution of this printer is up to 600 × 600 dpi. It can produce up to 999 copies. The reduction and enlargement capacity of this copier is from 25% to 400%. Auto Fit Function is available for copying.
Ecological Heat Free Technology
Since this is an EcoTank printer, the Epson L15150 uses the Heat Free Technology for printing. With this technology, the printer consumes a very less amount of power, which eventually saves the ecosystem of the earth.
This technology needs no heat to execute the process of ink ejection, unlike the inkjet printers. It takes no time to warm up. As a result, your printer will start its job just after you switch it on.
Ink Tank
The Epson L15150 printer has a large ink reservoir with 4 ink bottles of different colours of ink – black, cyan, yellow, and magenta.
For black ink bottle, there are 800 nozzles. Besides, there are 256 nozzles each of the others. Refilling this tank is not complex.
With the combined effort of the EcoTank pigment ink and the DURABrite ET INK, the Epson L15150 printer can deliver sharper and clearer prints. It can print efficiently even in barcode mode.
This printer will give you an extreme page yield of up to 7500 and 6000 pages for black and colour respectively. The outputs will be water resistant.
Connectivity
The Epson L15150 printer is featured with every possible connectivity option. On one hand, it supports wired connectivity using a USB port. On the other hand, it supports WiFi and WiFi Direct network connectivity.
This printer also supports the Ethernet Epson Connect feature. This feature will offer you facilities like Epson iPrint, Epson Email Print, Remote Print Driver, and Scan to Cloud.
Disadvantages of Epson L5190
Here are some disadvantages of this printer which are not dealbrakers.
High Initial Cost
While compared to other ink tank printers, the cost of the Epson L15150 printer is much higher. So it might not be affordable for everyone.
Clogging of Printhead
The printhead of the Epson L15150 printer could clog if it is not used for too long. This printer demands a routined maintenance after each time you use it.
Problems with Photo Printing
If you use glossy paper to print photos, you may encounter smudged outputs which are irritating.
Epson L15150 Printer Pros and Cons
Pros
Great Printing Quality.
All-in-one printer with Duplex Printing.
Wireless and USB Connectivity.
Cons
The printer could clog if it is not used for too long.
Problems with Photo Printing.
Conclusion: Epson L15150 Printer Review
The Epson L15150 printer is a very expensive printer. Though it will give you a host of exceptional features for printing, scanning, and copying, you should think twice before investing money in it.
This review has shown you the positive and negative qualities of this printer. If it is out of your budget check other printers.
Prabir Mandal is the editor-in-chief of Printer Guru. He is in love with productivity devices, especially printers. His love for printers has made him open this blog where he can share all his knowledge about printers and the experiences he has gathered while using them.