Epson L3150 vs Epson L3151: Looking for a Wi-Fi-enabled all-in-one color printer from the brand Epson under 20000? Well then, both Epson L3150 and Epson  L3151 must have emerged as options in front of you.
It is quite difficult to select one between them, especially when you don't know their pros and cons very well.
Here in this article, after testing and using these two printers extensively, we have compared the features, differences, advantages and disadvantages of these two printers and thereafter have given a point wise comparison between them for our readers' conveniences.
Epson L3150 vs Epson L3151 Specification Comparison
FEATURES
Epson L3150
Epson L3151
Printer Type
Ink Tank
Ink Tank
Functions
Print, Scan and Copy
Print, Scan and Copy
Page Yield (Black/Colour)
4500 pages (Black & White),
7500 pages (Colour)
5,000 Black
6,500 Colour
Cost Per Print
7 Paise For B/W
18 Paise For Color
7 Paise For B/W
18 Paise For Colour
Print Speed (Black/Colour)
Black 33 Pages Per Minute
Color 15 Pages Per Minute
10 ipm for B/W
5 ipm for Colour
Display
No
No
Wi-Fi
Available
Yes
Bluetooth
No
No
ADF
No
No
Duplex Printing
Manual
Manual
Duty Cycle
150 to 500 Pages Monthly
150-600 Prints/Mo
OS
Windows XP or higher.
(Mac OS has reported issues)
MS Windows
Mac OS
Maximum Print Resolution
5760 x 1440 dpi
1,200 x 6,000 dpi
Warranty
1 Year
1 Year
Lowest Price
CHECK ON AMAZON
CHECK ON AMAZON
Epson L3150 vs Epson L3151 Comparison Review
Now, here is our detailed Epson L3150 vs Epson L3151 Comparison review which will help you decide which is the best suited for you.
So, why wait? Let's start the in depth comparison between Epson L3150 and Epson L3151.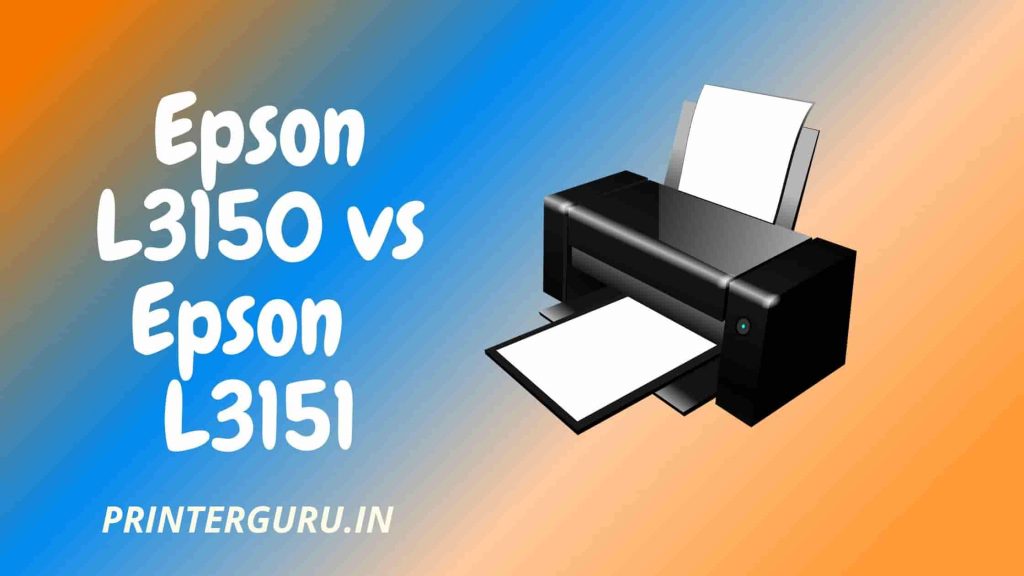 Features and Advantages of Epson L3150
All in one printer
The Epson L3150 comes in a compact and elegant design with inbuilt flatbed scanner, refillable transparent ink tanks.
This ink tank printing technologized printer provides printing with a high resolution of 5760 dpi.
Wireless connectivity and compatible devices:
This printer comes with multiple connection options. You can connect your smartphones, PCs , tablets to this printer via Apps, Wi-Fi or USB.
Compatible Sheet Sizes:
The Epson L3150 supports C6, B5, A5, A4, A6, DL sizes so you can print your bills, notes, tickets, photos and everything using this printer.
Borderless Printing
The Epson L3150 is able to provide eye catching borderless printing.
Upto 33 ppm printing speed:
This is a super fast printer that can provide upto 33 black and white printouts and upto 15 colour printers per minute.
Yield Of High Quality And Quantity At low cost:
The compatible 4 colour bottles provided with this printer can produce up to 4500 monochrome and 7500 colour printouts.
Again each monochrome and colour printout costs only 7 paisa and 18 paisa respectively while providing a high resolution of 5760 dpi.
Users can expect more than 300 printouts per month from this printer. Each monochrome and colour printout costs only 7 paise and 18 paise respectively.
Disadvantages Of Epson L3150
Manual duplex
Printers with auto duplex feature are quite convenient as in these printers, the side of sheets gets altered itself so that you can get both side printing without your interference and can save sheets and time.
Expensive
This printer is a little bit expensive.
Features and Advantages Of Epson L3151
All In One Printer With Space Saving Design
The Epson L3151 with ink tank printing technology comes in a black coloured compact design which is specially meant for saving space.
The flatbed scanner is endowed with high resolution and integrated transparent ink reservoirs are easy to manage and refill.
Wireless Connectivity And Compatible Devices
The Epson L3151 printer has Wi-Fi direct, Wi-Fi, USB connectivity so you can connect your phones, laptops, tablets with this printer easily.
Supported Sheet Sizes
You can print letter size , A4 size , legal size sheets and many more sizes using the printer.
Borderless Printing
This printer can provide borderless printing up to 4R which is an excellent feature.
Printing Speed
This printer can provide up to 33 monochrome A4 size printouts and 15 colour A4 size printouts.
High Yield At Low Cost
From the 4 compatible ink bottles you can expect up to 4500 monochrome and 7500 colour printouts.
As per ISO standard, for each black and white print out, users have to spend only 7 paisa and that for colour printouts is 18 paisa only.
Disadvantages Of Epson L3151
Manual duplex
Every time when you will need both side printing, you will have to interfere to alter sides of sheets.
Expensive
Generally any printer with wireless connectivity costs little higher than printers with USB connectivity only and the Epson L3151 is not an exception.
Our Honest Verdict
No doubt both of them are good enough and one of the highest selling models of the naming brands.
After reading the above discussion you can easily say that both the printers are quite similar.
As per your requirements, you can go for any one of them for sure. If you are still confused, please let us know in the comment.
Pointwise Comparison between Epson L3150 and Epson L3151:
Both the printers Epson L3150 and Epson L3151 come with an in- buil scanner, so both the printers can be used for printing, copying and scanning.
Both the printers can print excellent photographs. Quality of colour printouts of Epson L3150 is little better than that of Epson L3151.
Sprinting speed is 33 PPM for monochrome and 15 PPM for colour printouts.
Both the printers are wireless connection enabled. You can connect your phone, tablet, laptop, PC to these printers.
Cost per page is also similar for both these printers. The printers are profoundly cost -efficient.
Both support a variety of sheet sizes.
Both support borderless printing
Not having auto duplex feature is a disadvantage of both these printers.
Both the printers requires maintenance. Rough uses may cause damage.
Related Posts
Prabir Mandal is the editor-in-chief of Printer Guru. He is in love with productivity devices, especially printers. His love for printers has made him open this blog where he can share all his knowledge about printers and the experiences he has gathered while using them.