Epson L3156 vs L3150: The ink tank printers manufactured by Epson are very convenient for multi-function. If you are searching for a printer for your home, you can buy an Epson printer.
Similarly, if you want to buy an ink tank printer for your office to enhance your productivity, you can choose an ink tank printer from Epson.
In this article, we will be comparing the features of two very reliable ink tank printers manufactured by Epson, which are – Epson L3156 and Epson L3150.
You will see how beneficial these printers are. We will also guide you to buy the best one.
Epson L3156 vs L3150 Detailed Comparison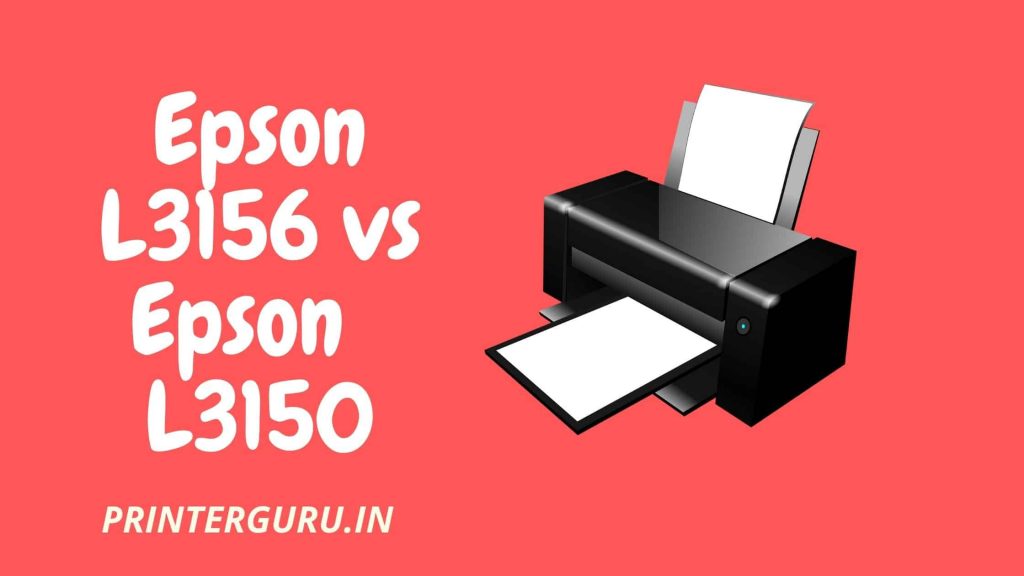 Now, have a look at the detailed comparison between Epson L3156 and Epson L3150 to know the differences and similarities.
Design
Both Epson L3156 and L3150 are smart, compact and powerful ink tank printers. Each of them has an integrated ink tank that will allow you to place the printer anywhere in your home or office. These two printers will take little space on your desk.
Ink Tank
If you are already exhausted refilling your inkjet printers again and again, you must choose Epson ink tank printers. The Epson L3156 and L3150 are the best choices.
All your worries about the high cost of ink cartridges will be removed by these ink tank printers.
These two printers are such refillable ink tank printers of Epson's EcoTank series that are reliable as well as require low maintenance costs.
Printing Features
Both the Epson L3156 and L3150 can print 33 black and white pages within a minute. In fact, these printers deliver the same number of colour prints per minute, that is 15 pages per minute.
The printing cost per page is only 7 paise for black and white and 18 paise for colour with the Epson L3156 printer.
You will get the same printing cost if you buy the Epson L3150 printer. Besides, a borderless photo printing facility is available with the Epson L3150 printer.
The printing resolution of these two printers is outstanding. It is 5760 × 1440 dpi. The outputs you will get will be sharp and vibrant.
Page Yield
Page yield is also the same for these printers. Both the printers have a powerful ink tank with four different ink bottles that is able to print 4500 black and white pages and 7500 colour pages. So there is no requirement of filling the ink tank frequently.
Scanning and Copying Features
Both the Epson L3156 and L3150 are equipped with multifunctionality. So, apart from printing, you can scan and copy your documents or photos with these printers. Both of them have a flatbed scanner.
Connectivity
You can connect the Epson L3156 printer with other printing devices through WiFi or Epson printing app. You can connect it with your laptop or computer with a USB too if you prefer wired connectivity.
Similarly, the Epson L3150 printer will give you the same connectivity options. You can connect it via WiFi and other Epson Connect features.
You can use its iPrint, Email Print Driver and also Remote Print Driver so that you can enjoy seamless wireless connectivity. USB connectivity option is also there in this printer.
Power Consumption
If we compare the Epson L3156 and L3150 printers, we will see that the Epson L3150 is a power – saving ink tank printer.
Though both the Epson L3156 and Epson L3150 are good for your budget, the Epson L3150 is more preferable because it consumes less power and is environment – friendly.
This particular printer will offer you tremendous productivity with low consumption of power and money. So you have to pay a little amount of money at the end of the month as electricity bills.
Pros
Both of the printers are multifunctional printers. So they are convenient for scanning and copying also, apart from printing.
Both are ink tank printers. So the ink tanks of these printers do not dry up even after 15 days of not working.
The Epson L3150 consumes a little power while working. So it is a budget – friendly as well as environment – friendly printer.
The Epson L3150 can print borderless photos efficiently.
The page yield is very high with both of these ink tank printers.
Both have seamless connectivity features.
Cons
Both of these printers are eligible for only manual duplex printing. You can't go for auto duplex printing with these printers.
Verdict: Which One You Should Go For
We hope now you are aware of the features of both the Epson L3156 and Epson L3150 printer. We have mentioned every possible advantage and disadvantage of these two ink tank printers after using these two printers as our daily drivers for months.
So it is now up to you which printer you want to buy for your home or office.
But, if you want our suggestion, we will recommend you to buy the Epson L3150 printer.
Because this particular printer is budget-friendly and eco-friendly as it does not consume much power while printing, scanning, or copying.
So are you following our suggestion? Do comment.
Also Check:
Prabir Mandal is the editor-in-chief of Printer Guru. He is in love with productivity devices, especially printers. His love for printers has made him open this blog where he can share all his knowledge about printers and the experiences he has gathered while using them.