Hp is known for its reliable printers for home and office use. In the Indian Market, they have already launched some quite popular laser printer models such as HP Laserjet Pro M126nw and HP Laserjet 136nw. Now for their customers, they have launched a new model named HP Laserjet Tank 1020w. We have tested it and here is our detailed HP Laserjet Tank 1020w Printer Review.
In the following paragraphs, we will try to point out its look and feel, design, printing quality, page yield, printing speed, supported OS, and User interface (UI). Moreover, HP Laserjet Tank 1020w Printer's pros and cons will also be included.
So, without wasting any time, first, look at this printer's detailed specs.
HP Laserjet Tank 1020w Specs at Glance
Features
HP LaserJet 136NW
Printer Type
Laser Printer
Functionality
Printing
Monthly Printing
Up to 25,000 pages/month
Printer Output
Monochrome
Automatic Document Feeder
Available
Printing Speed
22 pages/minute
Connectivity
USB, Wi-Fi
Page Yield
5000 pages
Ideal User
Small Business, Office, Home
Recommended Page Volume
100 to 2,000
OS Support
Windows 7, Window 10 and Windows 11
macOS
Output Capacity
Icon LCD
Display
2-Line LCD (16 characters per line)
Warranty
1 Year
Duplex Printing
Manual
HP Laserjet Tank 1020w Detailed Printer Review
Let's start it a detailed review. We will let you know about its look and feel, design, printing quality, page yield, printing speed, supported OS, and User interface (UI) one by one.
Design and Build Quality
Design-wise we can say that it is just like any other laser printer from HP. It comes with quite a minimalist design. The beautiful HP logo is on the front of the body.
It is nicely built with no sharp edges anywhere. The weight of it is just 6k making it quite lightweight even though it is a laser printer. It is also compact In design.
The good news is that we don't have any complaints regarding the build quality of this printer. HP Laserjet Tank 1020w feels sturdy and is made with strong long-lasting materials.
Printing Quality
This printer is capable of printing 25000 pages per month at a speed of around 14 pages per minute. The printing quality comes out to be great. The printing resolution is up to 600 x 600 dpi. The printer produced sharp monochrome printed pages. For shop, it will be a great option for sure.
The speed of the printer is also quite commendable. You can expect a speed of around 22 pages per minute. The speed is undoubtedly good.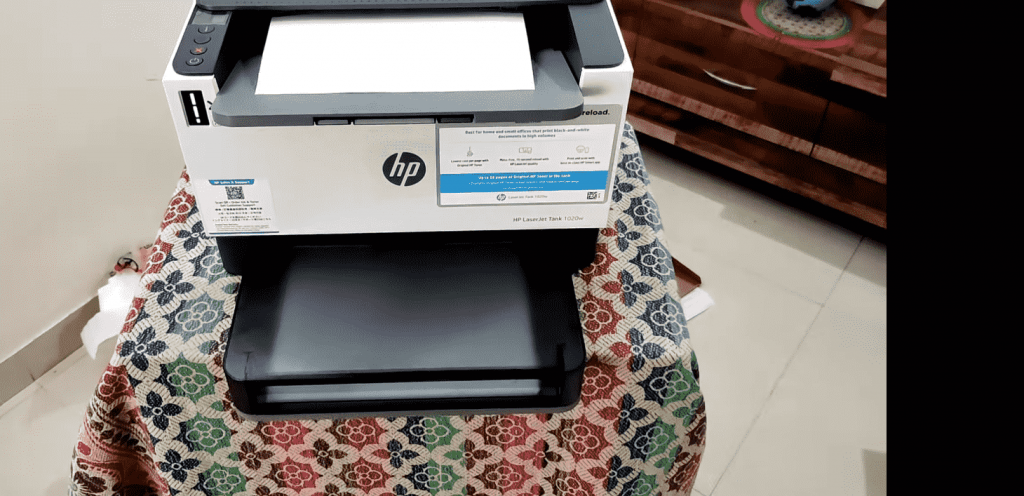 Page Yield
With the original Hp Toner available in the box, you can expect the page yield to be around 4500 to 4700 pages even though the company claims about 5000 pages of page yield.
Connectivity
When it comes to connectivity, you get everything you have asked for here in this printer. It has USB for wired connectivity and WiFi and Bluetooth for wired connectivity. With the help of a smartphone, we were able to print from this printer as connecting with the printer was quite easy and convenient.
Supported Operating System
This printer comes with support for both Windows and Mac Operating systems. The supported version of Windows is Windows 7, Windows 8.1, Windows 10, and Windows 11.
In short, we faced no issue while you used it with a Windows-powered PC or even with a Mac Os Powered Device. The Mac Os versions supported with this printer are macOS v10.15 Catalina, macOS v11 Big Sur, and macOS v12 Monterey.
Conclusion- Is HP Laserjet Tank 1020w Printer any Good?
HP Laserjet Tank 1020w Printer is a wonderful printing machine for small business and office use. It can also prove to be a great printer for home use. If you have a shop with daily lots of printing needs, you might consider buying the other laserjet printer models of HP as it only comes with 5000 pages of page yield.
Prabir Mandal is the editor-in-chief of Printer Guru. He is in love with productivity devices, especially printers. His love for printers has made him open this blog where he can share all his knowledge about printers and the experiences he has gathered while using them.