Canon G2010 Review: If you are planning to boost your printing productivity by buying the Canon G2010 ink tank printer, here is our article to guide you. So go through this review article with full attention before buying.
Key Features
All-in-One (Print, Scan, Copy).
Print resolution – 4800 x 1200 dpi.
Borderless Printing.
Low Power Consumption.
About Ink Tank Printers
Ink tank printers are the most affordable printers with high performance. These are the most efficient printers that use refillable ink tanks and ink bottles to print, instead of cartridges. You can easily refill the ink tanks whenever it is needed.
Ink tank printers are more appropriate for domestic as well as professional fields than the regular inkjet printers. Because they have large ink reservoirs that supply ink to the cartridges through an airtight tube.
So if you have to do a great amount of printing on a daily basis, ink tank printers are the best option for you.
Canon G2010 Specifications
Functionality
Multifunctional (Print, Scan and Copy)
Printing Cost
8 Paise For B/W
21 Paise For Color
Supported OS
Windows XP or higher (Mac Not Supported)
Printing Speed
Black and white (17 Pages Per Minute)
Color (10 Pages Per Minute)
Automatic Document Feeder
Not Available
Connectivity
USB (Wired)
Noise level
38~52 d8
Warranty
1 year or 15000 pages print whichever is earlier
Price
Check Recent Price
Detailed Canon G2010 Printer Review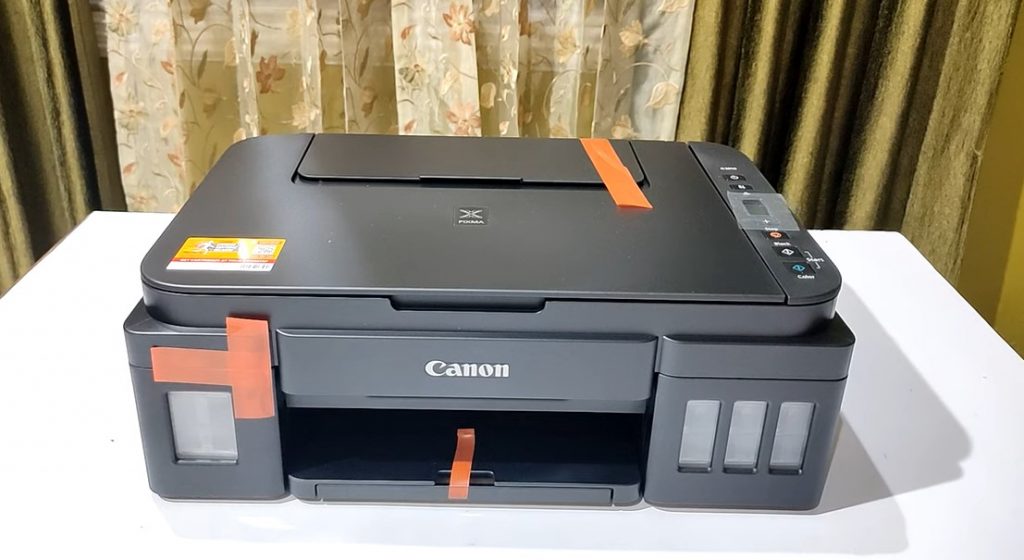 Canon G2010 is an ink tank printer that is designed with a host of outstanding qualities that will give you an exceptional wireless printing experience. It is a multifunctional printer, so you will get printing, scanning and copying features in this printer.
Our article will provide you with a solid notion about the qualities of the Canon G2010 printer. You will also get abundant facts about its pros and cons from this article.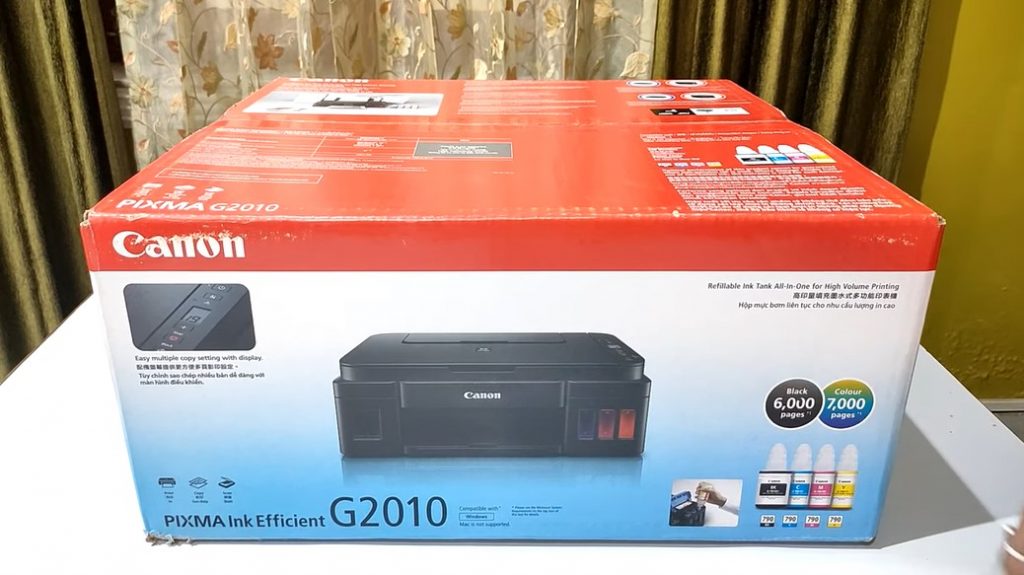 Design and Build Quality
Design is one of the greatest matters when buying any electronic device. The Canon G2010 has a compressed size and elegant design. Its dimensions are 44.5 × 33 × 13.5 cm and its weight is only 6.3 Kg. So you can fit this printer even in the tiniest of spaces.
It has an LCD display of 1.2 inches too. Besides, this ink tank printer has a new operation panel included in it. This new operation panel will simplify the performance of your printer.
Printing and Scanning Quality
The Canon G2010 printer is an all-in-one printer. It can improve the quality of printing with sharper and crisper black texts. Since this printer has a refillable ink tank design, it is one of the best printers for high-volume printing at schools, offices, and everywhere.
There is a top-loading paper tray in this printer. This tray is foldable and can take up to 100 sheets. There is also a front output tray that is foldable too.
This ink tank printer can print as well as scan approximately 8 black pages per minute and 5 color pages per minute. You can print photos only within a minute with this printer.
The flatbed scanner of this printer can scan A4 documents with an optical resolution of up to 600 × 1200 dpi. It will take approximately 32 seconds to scan in color. You can also do multiple copies with the Canon G2010 printer.
Ink Bottles
With the Canon G2010 printer, you and your family members will get advantageous printing. The ink bottles of this printer will offer you a very high page yield, which is up to 7000 pages. So you can remain stress-free about ink costs.
Ink Tank System
The Canon G2010 printer has a large inbuilt ink tank design that includes four individual tanks for cyan, magenta, yellow, and black. The ink reservoirs of cyan, magenta, and yellow can hold ink up to 70 ml each, while the black ink reservoir can hold up to 135 ml.
This integrated ink tank system makes the printer condensed in size. This ink tank design is so profitable that you can conveniently check the ink levels of your printer.
Spill-Proof Ink Bottles
Apart from an appropriate ink tank design, the Canon G2010 printer has spill-resistant ink bottles. These ink bottles come with a unique tip design. This particular design can bring down the risk of spillage and mess while you refill your ink tank.
Poster Artist Lite Software
The Canon G2010 printer will offer you amazing Poster Artist Lite Software. With this software, you will be able to select the most appropriate templates from more than 100 types of templates.
So, this software will be a useful companion to making posters or flyers as per the need of your business.
Connectivity Features
You can use the USB 2.0 port of the Canon G2010 printer to connect it to your computer or laptop. Wireless WiFi Connectivity is not there.
Disadvantages of the Canon G2010
Let us now discuss the drawbacks of the Canon G2010 printer:
Faulty Output Tray
The output tray of the Canon G2010 printer is foldable, but it is not able to shut the compartment properly. So there can be trouble from dust settling inside the printer.
No Duplex Printing and ADF
The Canon G2010 printer has no duplex printing feature. So whenever two-sided printing is required, you have to flip the papers manually.
Besides, the scanner of the Canon G2010 has no Automatic Document Feeder.
No Wireless Connectivity
Unfortunately, the Canon G2010 printer does not support wireless connectivity and has no Ethernet port. This inefficient connectivity makes this printer less capable of being used in offices.
Clogging Problem
Clogging is not a rare problem that we face with an ink tank printer. Since the Canon G2010 is an ink tank printer, if you do not print regularly or at least once a week, The ink could dry up.
Conclusion: Canon G2010 Review
To sum up this review article, I can only say that the Canon G2010 printer is easier to use and maintain. The efficient ink tank design will remove the hassle of using expensive cartridges.
At the same time, it will offer you high-volume printing. So, for all these good qualities, this printer is a must-buy.
Who Should Buy It?
If you are a student who needs a printer for education purposes, if you have a small business, if you want a printer at home for everyday printing, you can go for this one.
Prabir Mandal is the editor-in-chief of Printer Guru. He is in love with productivity devices, especially printers. His love for printers has made him open this blog where he can share all his knowledge about printers and the experiences he has gathered while using them.