Epson L3100 Printer vs Epson L3110: Buying an Epson Printer can be a headache if you don't know which one is the suitable one for you.
Now, if you are not being able to decide between Epson L3100 and Epson L3110, we are here to help you out.
Here, in this in-depth comparison after testing them and using them, we will be talking about the feature these two printers offer and which one is good between these two.
So, without any further delay, let's find out.
Epson L3100 Printer vs Epson L3110 Comparison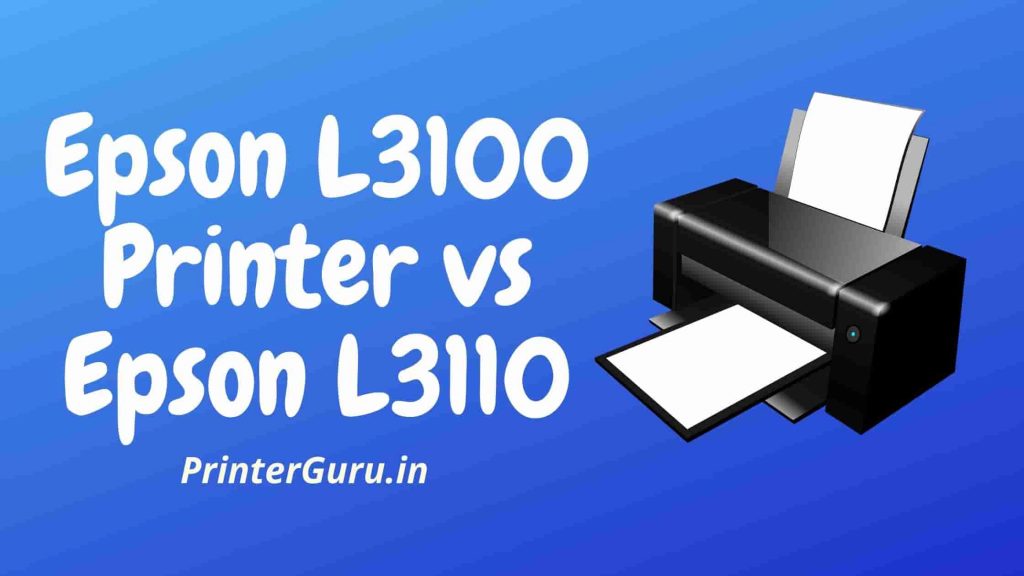 Features Of Epson L3100 Printer
Compact design
The Epson L3100 is compactly designed with integrated tanks and an inbuilt flatbed scanner. This printer would require very little space in your office or home.
This printer weighs about 4 kgs so users can relocate it according to necessity.
Inbuilt Flatbed Scanner
Buying this printer means you are buying a 3 in 1 machine that will copy, scan, and print for you. The flatbed scanner has a scanning resolution of 600 x 1200 dpi which will provide professional service.
Compatible Sheets
This printer is compatible with both normal papers and photograph papers and with sheets of different shapes and sizes. Which is a great feature for enhancing your creativity.
High Monthly Duty Cycles
A user can print up to 300 pages per month which are recommended. You can print even more but remember not to be harsh to your printer.
Easily Refillable
As we have mentioned this printer has integrated ink reservoirs that are visible from the outside. So you can easily monitor and refill them.
Cost-efficient
As per ISO standard, only 7 paise and 18 paise are needed to spend to get one monochrome and one color printout respectively.
Fast Performance
At first to process a monochrome printout, a color printout, and a photograph this printer takes about 10 seconds, 16 seconds, and 90 seconds respectively.
Once after gaining speed it can provide more than 30 monochrome printouts or 14 color printouts per minute.
Disadvantages of Epson L3100
Provision Of USB Connectivity 0nly
You will always require a USB cable to connect your printer to other devices as this printer can't be connected to other devices wirelessly.
No Auto Duplex Feature:
You can get both sides printed from this printer only by altering the sheet's side yourself. Both side printings will not get processed automatically by the Epson L3100 printer.
Features Of Epson L3110 Printer
Compact Design:
The Epson L3110is compactly designed so that the user can keep it in a little space. This means you can save space in your home, office, etc.
All In One Colour Printer:
The Epson L3110 is an All-in-One printer that can give excellent prints and scans, copies also with the help of the inbuilt flatbed scanner.
Compatible sizes:
The Epson L3110supports variable paper sizes. They are A4, A5, A6, B5, C6. Since it's a color printer, you can print photographs of different sizes, your bills, notes, using this printer.
Satisfying Monthly Duty Cycles:
The recommended monthly printout limit for this printer is 300. This means the Epson L3110 can provide 300 printouts per month easily.
Easy Refilling And Monitoring Of Colour Reservoirs:
This printer is compactly designed with integrated and visible Ink reservoirs which can be monitored and filled easily.
Low Cost For Printing:
The Epson L3110 is a cost-efficient printer that gives a high yield at low prices. Once after buying the compatible ink bottles you can expect near about 7500 colorful and 4500 monochrome printouts.
As per ISO standard except for the cost for sheets themselves, a user needs to spend only 7 paise for a monochrome printout and only 18 paise for a color printout.
Fast Performance:
The Epson L3110 printer claims to provide up to 30 monochrome that is black and white printouts per minute and up to 15 color printouts per minute. Which is great for office uses and for busy cyber cafes.
Disadvantages of Epson L3110:
Comes Without Wireless Connectivity:
You can connect Epson L3110 to other devices only by using a USB cable. There is no provision for a wireless connection.
Comes Without Auto Duplex Feature:
This is not a significant disadvantage unless you need bulk printing on both sides of the sheets.
Conclusion: Epson L3100 Printer vs Epson L3110
Epson is quite a reliable brand that is why it is so common in offices, schools, cyber cafes, homes i.e. almost everywhere.
Both the printers are almost similar and there are very few differences. Let us understand them through pointwise comparison is given below-
PointWise Comparison Between The Epson L3100 Printer and The Epson L3110 Printer
The Epson L3100 costs nearly 12000 and the Epson l3110 costs 11000 in Indian rupees.
Colour printers being delicate requires maintenance and that is the case with both the printers.
Both work on ink tank technologies and can be used for processing printouts of different sizes on different mediums.
Both have similar duty cycles, similar ppm rate, similar cost per page.
Both the printers and similar disadvantages. Both do not have the auto duplex feature and can't be connected to other devices wirelessly.
Sanket is one of our authors here at PrinterGuru. He has been repairing printers for years and has vast knowledge about them.