Here, we have tried to provide you with HP 1005 Printer Review so that your purchasing decision becomes easy for you.
If you are looking for a monochrome laser printer with a high-duty cycle, then HP Laserjet 1005 definitely shows up as an option in front of you.
So before you get the product delivered to your home or office, go through our HP 1005 Printer review to clarify your doubts.
Key Features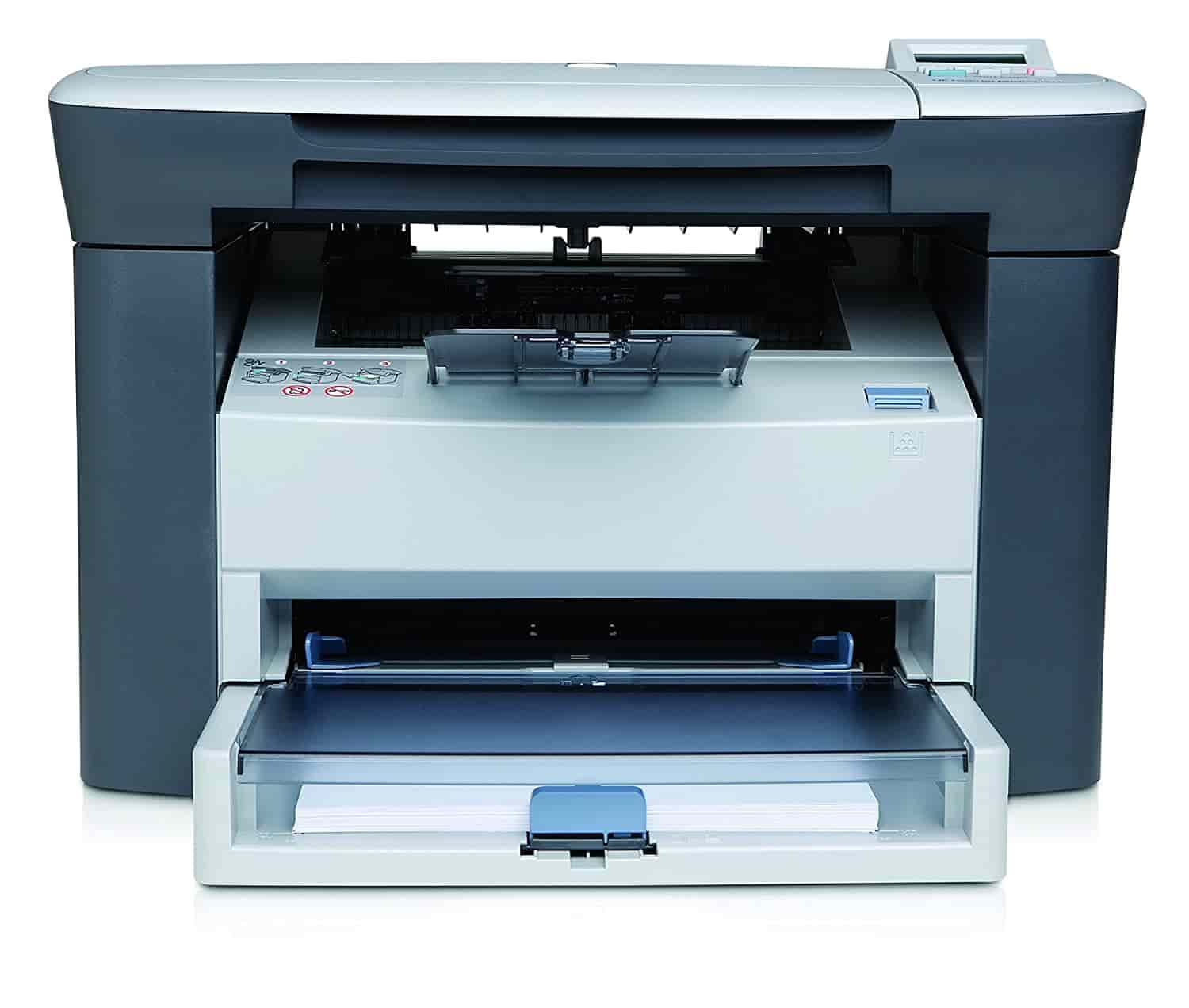 Multi-Function (Print, Scan, Copy).
15 pages per minute.
Monochrome printer.
Laser Printer.
What is a laser printer?
Laser printers are fast working printers that use dry colors known as toners for printing documents. Laser printers have a light-sensitive drum on which a laser forms patterns of electrostatically charged dots that attract toner. Then the toner comes upon the sheet and after heating the stains become permanent. Usually, laser printers work faster and clearer than inkjet printers.
HP 1005 Printer Specifications
Functionality
Multifunction Monochrome
Connectivity
USB 2.0
Print Per Minute
(Print speed)
Up to 14 pages (B/W)
Copy Per Minute
(Copy speed)
Up to 14 pages (B/W)
Cost Per Print
Around 1.4 Rs. For B/W
Display
Yes (2-in display)
Ideal User
Small and medium businesses
Maximum usage per month
Up to 5000 pages
Power Usage
High
OS Support
Windows 7 or higher
macOS
ADF
Not Available
Memory
32 MB
Paper supported
Up to 80 GSM
Warranty
1 Year
Price
Check Price
HP Laserjet M1005 Printer Review
Now, let's have a look at HP Laserjet M1005 Printer Review so that it becomes easy for you whether you should go for it or not.
Stiff and Durable Design:
The HP 1005 is compactly designed (length x width x height: 17.2″ x 14.29″ x 12.12″) to fit in small space and to survive minor jolts and serve long.
Printer, Scanner, Copier 3 functions in a single machine
HP 1005 comes with in-built flatbed scanner to perform scanning, copying of black and white documents besides printing.
Easy to use
The 2 inch LCD display is featured for convenient monitoring.
Fast service
HP 1005 starts working instantly and takes only 10 seconds to print the first sheet. It can print 14 A4 sheets per minute. HP Laserjet M1005 has 2 MB internal memory, a 234 MHz processor to provide the user fast, easy and smooth service.
Quality service at an affordable rate
HP 1005 provides excellent crisp printings of text and graphics at an affordable rate. The special Economode features ensure less toner usage to make this printer remarkably cost-effective. The instant-on technology is helpful to save energy.
Optical Character Recognition
This OCR, abbreviation of Optical Character Recognition is a great software to convert documents into digital format. This will help in editing and archiving documents if needed.
Scanning with 1200 dpi resolution
Sensitive media like small fonts or old photographs can be scanned perfectly with a high resolution of 1200 dpi.
High monthly duty cycle and bulk printing
The user can expect 5000 black and white printouts from HP 1005 printer per month. This printer with this high-duty cycle is a great choice for bulk printing.
Supported Page sizes
Most of the pages are supported in this printer. HP 1005 supports a variety of sizes of sheets ranging from A4 to postcard i.e.  A4, A5, B5, C5, C6, DL, postcard.
Laser technology
Laser printers usually have two remarkable advantages over inkjet printers. Being a laser printer HP laserjet 1005 works faster again the cartridges of the HP 1005 printer do not need to get changed even if the owner does not use it for months.
Drawbacks of HP LaserJet 1005
It has some drawbacks just like the other printers. So, here are the Drawbacks of the HP LaserJet 1005 printer.
No auto-duplex feature
The provision of an auto-duplex feature is helpful to save your energy and time as you won't have to interfere every time to get both side printouts. But HP LaserJet 1005 does not have an auto-duplex feature i.e. you have to alter the side of each sheet to get both sides printed.
No wireless connectivity
People prefer printers with Wi-Fi connectivity for easy, seamless, wireless connection. HP LaserJet 1005 comes with only USB connectivity so the wire can tangle up frequently or may cause hustle while connecting to other devices.
Can not provide color printouts
HP 1005 is a Monochrome printer so you can expect only black and white printouts from it whereas a colour printer can provide colored as well as black and white printouts.
Little bit high cost per page
As per ISO standards for each printout from HP 1005, the user needs to spend 1.4 rupees whereas there are many other printers ( from HP and many other brands) available in the market which prints at the rate of 14 paise only per each sheet.
Conclusion: HP 1005 Printer Review
The above-mentioned disadvantages of HP 1005, weigh very little in front of the numerous striking features mentioned earlier. HP LaserJet M1005 is one of the best all-in-one printers with a stiff and durable structure.
Truly, it is one of the finest laser printers out there in this price range which offers lots of worthy features for your printing, scanning, and more.
We have tried to provide the most appropriate and honest review of HP LaserJet M1005 for your convenience. We hope you liked it.
Some FAQs about HP M1005 Printer
Q. HP LaserJet 1005 is a good printer or not?
A . DefinitelyHP 1005 is a great printer with excellent features although it has some disadvantages too. Check out the article for detailed analysis.
Q. How much does HP 1005 cost?
A . Around INR 20k although you can wait for offers and grab it at a  substantial discount.
Q. Can I use HP Laserjet M1005 for scanning?
A . HP Laserjet M1005 is a  multifunction monochrome laser printer that has a flatbed scanner so you can use it for scanning, copying besides printing.
Q. Can I get color printouts from HP laserjet M1005?
A . No as it is a monochrome printer.
Prabir Mandal is the editor-in-chief of Printer Guru. He is in love with productivity devices, especially printers. His love for printers has made him open this blog where he can share all his knowledge about printers and the experiences he has gathered while using them.