HP 3835 Printer Review: If you are puzzled by the confusion of whether the HP 3835 printer is beneficial for your home and office or not, you have read this article once.
Here you will find a helpful discussion about the pros and cons of this DeskJet printer that will rescue you from this confusion.
About Deskjet Printers
Deskjet printers are not different kinds of printers. It is just a brand name for HP's specially designed inkjet printers. They are able to give you exactly the same features you usually get from an inkjet printer.
Sometimes, Deskjet printers will give you more additional features for printing, scanning, and copying that you do not find in a regular inkjet printer.
HP 3835 Printer Review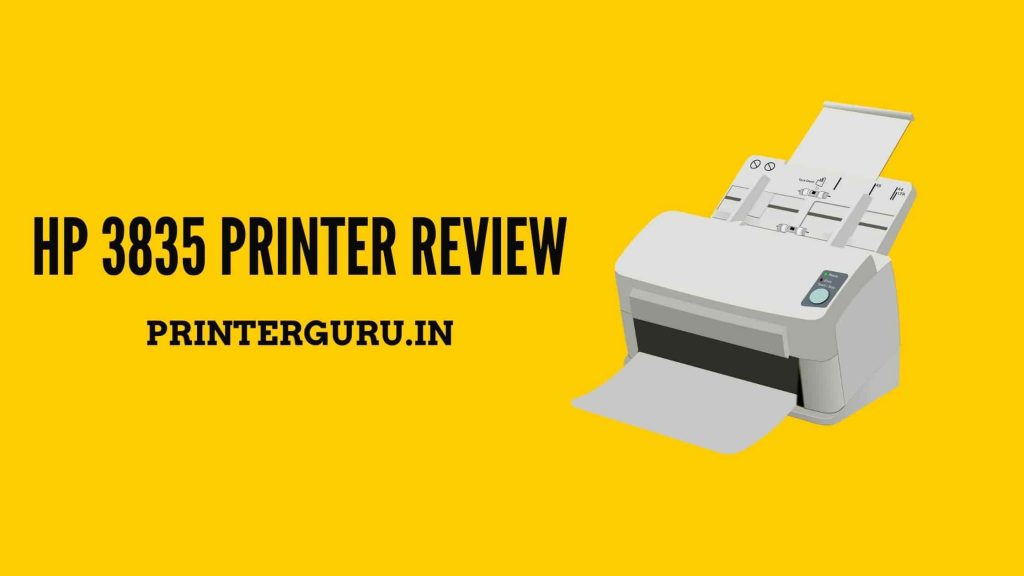 Here is the complete review of HP DeskJet 3835 Printer. Go through the entire review to find out everything about this particular printer.
Build and Design of HP 3835 Printer
The HP 3835 printer has an intelligent document management system. This printer has 21.5 cm depth, 18.8 cm height, and 33.1 cm width. The weight is as little as 8.4 Kg.
The input tray of this printer is capable of handling 60 sheets, while the output tray has a capacity to tackle 25 sheets. The output tray can also prevent paper jamming. Furthermore, the HP 3835 printer has an automatic document feeder for 35 pages at once.
Quiet Mode
Quiet Mode is an essential feature of HP Deskjet printers. This option can make the printer print in a noiseless way, without affecting the print quality.
The HP 3835 printer has this optional feature. So with this printer, you will have no hassle of distraction from your work.
Printing Quality
The HP 3835 printer will offer you very productive printing service by using the HP Thermal Inkjet Technology. You can enjoy an extremely superior printing resolution with this printer.
For colour prints, it is up to 4800 × 1200 optimized dpi, while for black prints, it is up to 1200 × 1200 rendered dpi.
This printer will take just 17 seconds to deliver its first colour print. Similarly, it will take only 14 seconds for the delivery of its first monochrome print. It prints at a very economical rate for both grayscale and colour.
Scanning Features
The HP 3835 printer is an all-in-one printer. So it is no need to mention that it has scanning and copying features too. The scanner type is flatbed and the scan area size is 216 × 297 mm.
The optical scanning resolution is up to 1200 dpi, while the copying resolution is 600 × 300 dpi for both monochrome and colour.
Connectivity Features
The HP 3835 printer supports both wired and wireless connectivity options. You can set up a connection between your printer and your computer with the USB 2.0. Similarly, if you are not around your printer, you can take the support of WiFi to scan or take printouts.
With this wireless connectivity feature, you can also transfer the scanned copies directly to the cloud or email. Additionally, you will be able to check the ink status of your printer with this connectivity option.
The HP 3835 printer also supports mobile printing apps. You can use HP ePrint or Apple AirPrint for that purpose.
Efficient Ink Cartridges
The compatible colour cartridges are the HP 680 tri-colour ink cartridge and the HP 680 black ink cartridge. You will get these cartridges with your printer. So you need not buy these separately.
Drawbacks of HP 3835 Printer
Here are some drawbacks of HP 3835 Printer. Have a look at the drawbacks.
Limited Duty Cycle
There is no such major drawback of the HP 3835 printer but its duty cycle. This printer can only print 1000 pages per month. This limitation can frustrate you if you are using it for heavy printing tasks.
Little Expensive and Little Slower
Some users have also noticed that the cost per page is quite expensive with this printer. Some have said that it makes you wait a little longer to get coloured printouts.
Risk of Blurring
Since the HP 3835 is an inkjet printer, it uses water based or aqueous ink, which is so sensitive to water that even a tiny drop of water can harm it. So there is always a risk of blurred effects on the printouts.
Inefficient Paper Trays
Both the input and output tray of the HP 3835 printer are not sufficient enough to hold a large amount of papers. So it can disappoint you during bulk printing.
Conclusion: HP 3835 Printer Review
In spite of these minor limitations, there is a wide range of mind-blowing facilities you will get from the HP 3835 printer. So if you are looking for an inkjet multifunction printer at an affordable price, this is the best option for you.
Prabir Mandal is the editor-in-chief of Printer Guru. He is in love with productivity devices, especially printers. His love for printers has made him open this blog where he can share all his knowledge about printers and the experiences he has gathered while using them.